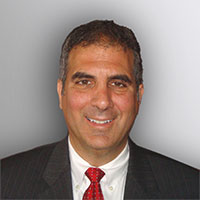 By bundling new technologies and low cost radiology devices with our services we are introducing Radiology-as-a-Service model into the mainstream market bringing unprecedented efficiencies to deliver faster, cheaper and higher quality healthcare."
FORT LAUDERDALE, Fla. (PRWEB) June 24, 2020
USARAD Holdings Inc., the leading US Joint Commission accredited teleradiology ad telemedicine company backed by Siemens Healthineers and several healthcare Venture Technology firms welcomes Dr. Frank Ferraro as the company's Chief Medical Strategist and Board Member. Dr. Ferraro is an actively practicing board certified radiologist, licensed in 48 states working with the CEO and management team on large transformative projects, quality assurance initiatives as well as physician recruitment, physician wellness, and physician and client satisfaction.
USARAD is currently in a growth phase leveraging cutting edge technologies such as AI, blockchain and digital x-ray source based on nanotech to ensure the highest quality imaging services at the best price point with the emphasis on patient care and physician/radiologist satisfaction. At this strategic juncture Dr. Ferraro is uniquely qualified to assist USARAD with exponential growth and its vision of being the leader in physician controlled and owned radiology and telemedicine services in a broad array of provider settings including but not limited to imaging centers, hospitals, urgent care centers, hospitals, nursing homes and physician offices. New healthcare models are being introduced and piloted including Radiology as a Service by bundling novel point of care devices (including x-ray based modalities and ultrasound) with radiology and telemedicine professional services.
Dr. Ferraro has extensive history in teleradiology space dating back to 1997 as part of the first national teleradiology private practice, Sheer Ahearn; where he led teleradiology operations and served on the Executive Management Committee leading the company to become the largest radiology practice in the country at the time. Dr. Ferraro in 2001 then founded and managed USTeleradiology with the goal of using proprietary technology to support patient focused US based radiologists to provide fast accurate subspecialty teleradiology coverage 24/7/365 with a hybrid business model of using hospital-based radiologists and a cloud-based teleradiology platform for offsite radiologists. In order to accomplish his vision, Dr. Ferraro was an initial investor/advisor and Board member in Neurostar, a cloud-based imaging distribution platform company that was sold to Nuance. USTeleradiology was later sold to Great Point Partners backed Aris Radiology approximately four years ago.
Dr. Ferraro is Board Certified in Diagnostic Radiology. He also received a Certificate of Additional Qualifications and Board Certification in Neuroradiology. He received his undergraduate degree at Johns Hopkins University and his Doctor of Medicine from New York University after which he did his internship and residency at Cedars Sinai Medical Center/UCLA. Dr. Ferraro also did a fellowship in Musculoskeletal MRI and Mammography at Brigham and Women's Hospitals/Harvard Medical School.
"By leveraging AI, blockchain and nanotechnology USARAD is well positioned to continue its global leading position and will accelerate its quest to affordably bring high quality healthcare around the world," explained Michael Yuz, M.D. MBA, CEO and founder of USARAD Holdings Inc." Frank Ferraro, MD added: "By bundling new technologies and low cost radiology devices with our services we are introducing Radiology-as-a-Service model into the mainstream market bringing unprecedented efficiencies to deliver faster, cheaper and higher quality healthcare."
About USARAD Holding Inc
USARAD Holdings, Inc. is a global telemedicine company consisting of three operating divisions and has received funding from the Venture Capital Unit of Siemens, Omphalos Venture Partners and Excelerate Health Ventures. USARAD is a radiology services provider offering interpretations of a full range of sub-specialty and general radiology patient studies. With an existing advanced technology network connecting medical facilities to board-certified radiologists and support staff, USARAD offers radiology services in all 50 states as well as multiple countries. Via its unique Radiology-On-Demand® platform, USARAD is committed to providing timely and responsive image review 24/7. SecondOpinions.com® is a medical consultation and second opinions leader providing health care customers, physicians and consumers with expert opinions from all medical specialties and sub-specialties. To date SecondOpinions.com helped patients in more than 120 countries. CareDoctors.com, its newest division was established in 2020 at the peak of COVID-19 Pandemic. The goal of CareDoctors.com is to enhance patient care experience by offering live video consultations bundled with telepharmacy service with over 1,000 board certified physicians in all specialties in the safety of their home. For more information please visit http://www.usarad.com, http://www.secondopinions.com and http://caredoctors.com.