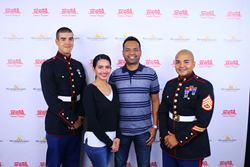 We are honored to help bring the glimmer of hope in these children's eyes, there is nothing more rewarding
MASSAPEQUA, N.Y. (PRWEB) December 02, 2018
The Toys for Tots Literacy Program was launched in March 2008, which offers the nations most economically disadvantaged children the ability to compete academically and to succeed in life by providing them direct access to books and educational resources that enhance their ability to read and to communicate effectively.
Dr. Gandhi was noted as being very happy to participate in MGE's annual event in St. Petersburg Florida with the U. S. Marines and participating in a campaign that brings not only a smile to children during the holidays, but gives them a fighting chance to become successful in life.
The CEO MGE was quoted as saying, "We are honored to help bring the glimmer of hope in these children's eyes, there is nothing more rewarding. In a sometimes-uncertain world we can only decide to create certainty for these children by demonstrating in a shoulder-to-shoulder effort that every child's life and future IS important."
The annual event at MGE was co-hosted by the MGE Leadership Class that Dr. Gandhi is an alumnus to. A phenomenal dinner prior to the auction was provided by one of the best restaurants in St. Petersburg Florida, Café Ponte. Some of the auction items featured were autographed memorabilia of well-known celebrities such as Derek Jeter, Tom Cruise, Arnold Schwarzenegger, Joe Namath and Wayne Gretzky; as well as diamond bracelets and Rebecca Minkoff handbags just to name a few.
To top off the evening The U.S. Marines awarded eight of the attendees who went above and beyond the call of duty for their donations and contributions a Three Star General Commander awards.
About Dr. Gandhi:
Growing up in Queens, NY, Dr. Gandhi later attended Pace University, and graduated from Stony Brook School of Dental Medicine in 2009. He graduated top of his class and was one of four selected from his graduating class to be inducted into Omicron Kappa Upsilon a National Honorary Fraternity of Dentistry, membership bases upon excellent scholarship, exemplary traits of character and potential qualities of future professional growth and attainment. Dr. Gandhi went on to become the Chief Resident at James J. Peters VA Medical Center in The Bronx, New York. In 2014 Dr. Gandhi opened Shore Smiles Dental, where he continues to deliver top notch dentistry to the Massapequa and surroundings communities. Dr. Gandhi is a member of the American Dental Association (ADA), International Congress of Implantologists (ICOI), American Academy of Cosmetic Dentistry, New York State Dental Association, Academy of General Dentistry (AGD), Global Institute for Dental Education, and Omicron Kappa Upsilon Dental Honor Fraternity.