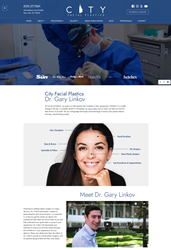 "I am thrilled to receive this recognition. We strive to provide the desired results for our patients and give them the confidence in their appearance that they deserve," says Dr. Gary Linkov
NEW YORK (PRWEB) September 23, 2019
Dr. Gary Linkov of City Facial Plastics is a renowned facial plastic surgeon in New York City. He has gained the attention of Find Local Doctors for the consistent exceptional reviews left by his patients online. Find Local Doctors is an easy-to-navigate online directory that helps consumers connect with local physicians who are qualified as well as reputable within their community. In addition to running his successful practice, Dr. Linkov also lends his expertise to RealSelf.com as their medical reviewer on lip lift procedures.
Dr. Gary Linkov is a leader in his field and is a double board-certified, Ivy League-educated and fellowship-trained facial plastic and reconstructive surgeon. At his practice, City Facial Plastics in Manhattan, he serves patients with a philosophy based on personalization and communication. Dr. Gary Linkov uses the latest techniques and treatments and stays on the cutting-edge, striving to be as minimally invasive as possible. Dr. Linkov and his team are well-known in the NYC area for superior results in procedures including facelifts, lip lifts, rhinoplasty, eyelid surgery, fillers, Botox and hair restoration. Many of his five-star reviews commented on his personable demeanor, thoroughness, intelligence and attention to detail.
"I am thrilled to receive this recognition. We strive to provide the desired results for our patients and give them the confidence in their appearance that they deserve," says Dr. Gary Linkov
More about Dr. Linkov:
Dr. Gary Linkov is a graduate of Cornell University and received his medical degree from Columbia University. He completed his residency in head and neck surgery at the Temple Head and Neck Institute. After residency, Dr. Linkov completed his American Academy of Facial Plastic and Reconstructive Surgery fellowship at the highly regarded Washington University in St. Louis. Dr. Linkov is also an esteemed clinical researcher with over two dozen publications that have impacted the fields of tissue engineering, head and neck cancer and facial plastic surgery.
Dr. Gary Linkov and his City Facial Plastics team, located at 635 Madison Ave #1402E in New York City, can assist you in finding the very best version of yourself. To learn more about Dr. Linkov and City Facial Plastics, please visit http://www.cityfacialplastics.com or by calling (929) 377-7869.