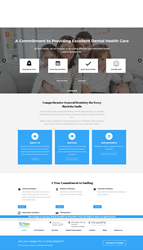 I am looking forward to joining this professional team and delivering the very best in dental care to my new patients, says Dr. Graham Kellams
MARIETTA, Ga. (PRWEB) September 17, 2020
Pure Smiles Dentistry is excited to welcome Dr. Kellams to their well-respected dental practice. This modern, state-of-the-art clinic is led by Dr. Sanil Patel and is located at 2655 Dallas Hwy #510 in Marietta, GA. Pure Smiles Dentistry provides cutting-edge, quality care for patients of all ages in a comfortable, relaxing environment. This top Marietta dental practice can handle all of your preventive and routine dental care needs, as well as specialized treatments. They deliver advanced procedures within pediatric, cosmetic and restorative dentistry and are even equipped to offer the latest orthodontic solutions.
Dr. Graham Kellams attended the University of Georgia and earned his DMD dental degree from The Dental College of Georgia. He is committed to continuing education and learning the latest advancements in the field of dentistry. Dr. Kellams is active in many organizations and is a member of the Georgia Dental Association and Academy of General Dentistry. He strives to help each patient achieve the smile they deserve while encouraging healthy habits that lead to the prevention of disease. Dr. Graham Kellams treats every patient with the utmost care and respect while listening to their concerns so a common goal for treatment can be identified and pursued together. The addition of Dr. Kellams helps the clinic to continue to provide every patient with a pathway toward achieving functional and aesthetic smiles. His dental knowledge and expertise are a great fit for this Atlanta area practice.
"I am looking forward to joining this professional team and delivering the very best in dental care to my new patients," says Dr. Graham Kellams
More about Pure Smiles Dentistry:
At Pure Smiles Dentistry, they understand what your smile needs to look and feel its best. The ability to serve patients in all facets of dentistry is one of the many valued benefits of choosing this practice. When you visit Pure Smiles Dentistry in Marietta, Georgia, you will always be greeted with a smile. Dr. Patel and his team go above and beyond to make each patient feel welcome. The clinic is designed to help patients feel relaxed with comfortable treatment rooms that are equipped with advanced dental tools and technology to maximize efficiency. This practice offers comprehensive dentistry, including general, restorative and cosmetic dental care for the entire family.
For more information about Pure Smiles Dentistry, please visit http://www.puresmilesmarietta.com or call/text (770) 422-8776.