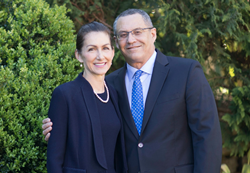 SANTA ROSA, Calif. (PRWEB) September 23, 2019
Sonoma Magazine has just released its annual listing of the area's top doctors. We are excited to announce that Plastic Surgery Associates' Heather Furnas, MD and Francisco Canales, MD have been named as two of the area's Top Doctors for 2019. This is the fifth year that Sonoma Magazine has recognized our plastic surgeons for their exceptional surgical and noninvasive cosmetic services in northern California.
Sonoma Magazine is a bi-monthly publication celebrating the wine-country's beautiful landscape and lively culture. Its' six yearly issues circulate to more than 25,000 homes businesses across Sonoma, Napa, Marin and San Francisco County. Every year, the publication releases their list of the top doctors in the area. These physicians cover a variety of medical specialties, including allergy and immunology, pediatrics, cardiology and gynecology
To be named a top doctor for Sonoma Magazine, physicians must first be nominated by their peers. A third party will then oversee the magazine's rigorous selection process, reviewing each doctor's background, training, education, hospital affiliations and professional endeavors. Only those physicians with the most nominations and the highest credentials are named a Top Doctor for Sonoma Magazine.
Dr. Furnas and Dr. Canales are honored to be part of this year's noted physicians, each of whom combines extensive skill and knowledge with an exemplary level of patient care. With over 30 years of experience, Dr. Furnas and Dr. Canales understand that no matter how large or small, every cosmetic procedure can leave a deep, long-lasting impact on the patient. Dr. Furnas explains, "Sometimes those changes (no matter how large or small) give our patients the boost that changes their lives." It is this commitment to helping each patient achieve their desired results that continue to make Dr. Furnas and Dr. Canales two of Sonoma Magazine's top-rated doctors.
About Plastic Surgery Associates
In 1992, Dr. Furnas and Dr. Canales established Plastic Surgery Associates in Santa Rosa, California. Each physician is a board-certified plastic surgeon, with training and experience at Harvard Medical School and Stanford University. Their plastic surgery practice has grown over the years to include two locations, each with the adjacent Allegro MedSpa offering noninvasive techniques. While Dr. Canales specializes surgical procedures such as the Mommy Makeover, breast augmentation and abdominoplasty, Dr. Furnas has established herself as one of the nation's experts in vaginal rejuvenation and labiaplasty procedures.
If you are in the northern California area and would like more information on Dr. Heather Furnas or Dr. Francisco Canales, contact our Santa Rosa office at 707.537.2111 or the Novato office at 415.895.9477. To have a patient coordinator reach out to you, simply fill out our Contact Us form. Head over to Sonoma Magazine to see their full list of 2019's Top Doctors.