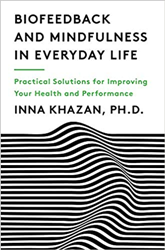 With mindfulness and biofeedback, we give ourselves a chance to utilize our internal resources most efficiently and effectively, without wasting valuable fuel on things we cannot control.
LONDON (PRWEB) October 08, 2020
Performance consultant, Jeff Krushell, has just released the third podcast in his ongoing series "The Brain Game" in which he discusses the use of mindfulness training for peak performance with clinical psychologist and Harvard faculty member Dr. Inna Khazan. Dr. Khazan has conducted biofeedback and mindfulness trainings for notable institutions in the US and abroad, including the US Navy Special Warfare, US Army Special Forces, and the Stuttgart Opera and Ballet Company. High performers, whether they are athletes, artists, executives, or those working in high stress careers are increasingly using mental training to enhance performance under stress.
"The Brain is one of the most complex organisms known to mankind. It is mission control for everything we do, the source of all qualities that define our humanity. Mindfulness could very well be one of the most important strategies in our quest to better control our brains and brain function," stated Jeff.
Dr. Khazan's method is unique in that she combines mindfulness - the process of bringing one's awareness to the present - with biofeedback, which allows for the measurement of physiological changes that take place in the body such as heart rate, respiration rate, skin conductance and peripheral temperature.
According to Dr. Khazan, "With mindfulness and biofeedback, we give ourselves a chance to utilize our internal resources most efficiently and effectively, without wasting valuable fuel on things we cannot control, such as our thoughts and feelings, and instead, directing them towards concrete actions that lead to better performance."
Both techniques offer helpful ways to respond to stress, difficult emotions and even physical pain. Mindfulness enables an individual to pause long enough to make a choice of response and skills learned through biofeedback are a large part of that chosen response.
Included in this ongoing series, are interviews with several influential people from the biofeedback field including: Lawrence Klein, VP and Founder of Thought Technology, Ltd.; Dr. Erik Peper, psychologist, author and president of the Biofeedback Federation of Europe, and Dr. Leah Lagos whose focus is on HRV training for athletes and peak performers.
Click here to listen to Jeff Krushell's interview with Dr. Inna Khazan.
About Jeff Krushell
Jeff Krushell is the founder of Krush Performance and an Athlete Development Specialist & Organizational Performance Consultant. He is regarded as a noted expert in the area of talent development in sport and through his work has gained unique insights into the process of improving performance.
Over the last 25 years Jeff has worked in the world of high-performance sport helping athletes tap into their potential to truly understand what it is like to achieve Human Maximum Performance. Jeff currently consults for Major League Baseball International; CTV News, Edmonton; Vauxhall Baseball Academy; Link Management and has previously worked as the strength and conditioning coach for both the Toronto Blue Jays and Edmonton Eskimos.
About Dr. Inna Khazan
Inna Khazan, PhD, BCB is a licensed clinical psychologist specializing in biofeedback and mindfulness-based approaches to optimizing health and performance. Dr. Khazan is a faculty member at Harvard Medical School, where she teaches and supervises trainees. She has over 20 years of clinical experience in helping people overcome various personal and professional challenges. Recognized as a pioneer in mindfulness-based biofeedback, Dr. Khazan is a popular speaker at national and international conferences on the topics of biofeedback and mindfulness.
She is the author of numerous publications including her most recent book "Biofeedback and Mindfulness in Everyday Life: Practical Solutions for Improving Your Health and Performance," published by W. W. Norton and the highly-regarded" Clinical Handbook of Biofeedback: A Step-by-Step Guide to Training and Practice with Mindfulness," published by Wiley Blackwell.
Dr. Khazan has collaborated with the Biofeedback Federation of Europe to create a Mindfulness software suite for biofeedback practitioners using her methods.
About the Biofeedback Federation of Europe
The Biofeedback Federation CIC is a community interest company based in the UK dedicated to increasing awareness about the benefits of biofeedback and providing education, training, and certification to professionals. It is entirely supported by revenues generated in its online shop, through sponsorships and donations. For more information, visit the BFE Online Shop.