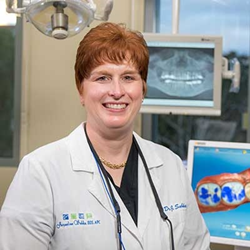 The amount of post-operative discomfort patients have is greatly reduced. We don't have to do any incisions or suturing, and the results are phenomenal.
Westlake Village, CA (PRWEB) September 17, 2019
Dr. Jacqueline Subka offers patients with gum disease in Westlake Village, CA, incision-free treatment with laser dentistry. A minimally invasive approach to gum surgery, laser dentistry is nearly painless and significantly quicker to perform than traditional osseous surgery.
Laser dentistry is gentle and effective because it simply uses laser light to evaporate diseased tissue. Healthy soft and hard tissue, such as bone and teeth, are undamaged from the laser light, meaning only diseased and targeted tissue is removed. Additionally, the procedure requires no scalpels or sutures, making it minimally invasive with little discomfort to patients. Patients typically recover the next day and have very little pain after treatment.
"Laser gum surgery is the most amazing new procedure that we have," Dr. Subka explains. "The amount of post-operative discomfort patients have is greatly reduced. We don't have to do any incisions or suturing, and the results are phenomenal."
Gum disease is one of the most common oral diseases, with over half the population affected to some degree. Without timely treatment, the disease can cause jawbone deterioration, tooth loss and even spread infection to other parts of the body. Research has linked gum disease to systemic health concerns like dementia, diabetes and heart disease. Traditional gum disease treatment, osseous surgery, involves surgically cutting away infected tissue, smoothing out the tooth roots and suturing the gums back together. With laser dentistry, no cutting or sutures are involved, and the disease is removed much more quickly.
Dr. Subka offers a wide range of advanced dental treatments at her practice. In addition to gum disease treatment, patients can also benefit from the revolutionary Pinhole® Surgical Technique (PST) for gum recession. Like laser dentistry, PST does not require any scalpels or sutures. For patients nervous about any treatment, Dr. Subka offers sedation dentistry to ease dental anxiety. Dr. Subka and her team also offer modern dental implant solutions to replace missing teeth as well as a variety of cosmetic dentistry treatments, including:

Porcelain veneers
Invisalign®
Teeth whitening
Dental crowns and bridges
Composite fillings
Those who would like to experience the benefits of laser dentistry for the treatment of gum disease are encouraged to schedule a consultation with Dr. Subka. The doctor can be reached by calling the practice at 805-373-1919 or visiting the website at http://www.subkadds.com.
About the Dentist
Dr. Jacqueline Subka is a general dentist offering personalized dental care for patients in Thousand Oaks, CA since 1999. Dr. Subka received her dental degree from the prestigious University of Southern California School of Dentistry in Los Angeles. Dr. Subka practices gentle dentistry and incorporates state-of-the-art techniques to provide leading, minimally invasive care. She and her team are committed to continuing education and strive to provide high-quality, personalized dental care to each patient. To learn more about Dr. Subka and the dental services she provides, visit her website at http://www.subkadds.com or call 805-373-1919.