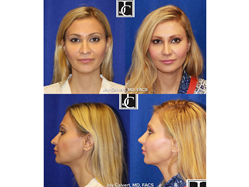 "An estimated 20,000 to 30,000 nose job procedures per year need further attention." - Dr. Jay Calvert, Board-certified Plastic Surgeon, and Revision Rhinoplasty Specialist
BEVERLY HILLS, Calif. (PRWEB) November 13, 2019
Many of us are looking forward to the coming holidays. However, those coping with botched cosmetic procedures often dread the idea of "facing" family and friends. For thousands of patients with failed plastic surgery procedures, the emotionally painful effects are on going - every time they look in the mirror of their home, their office, or their car. It can affect their careers, their social lives, and their marriages.
Many patients, such as Andrea from Torrance CA, are told that there is no remedy, "I had a botched Rhinoplasty, most surgeons did not want to touch me, the couple top reconstruction specialists said it will never look normal again".
According to Board-certified Plastic Surgeon, Rhinoplasty Society President, and Revision Rhinoplasty specialist Dr. Calvert, an estimated 20,000 to 30,000 "nose job" procedures per year "need further attention". In other words, the patient experiences a "botched" surgery.
Dr. Calvert encourages patients not to settle, but instead, to research.
Specializing in Revision Rhinoplasty, Dr. Calvert has seen many patients heal inside and out using new techniques. According to Andrea, "Dr. Calvert gave me my life, confidence, and beauty back and I will forever be grateful".
New techniques available include using grafts from the rib and under the hairline. These options are especially helpful when plastic surgery results in a shortened nose lacking cartilage, such as in the case of Nicole. To see her experience with Revision Rhinoplasty please visit https://www.youtube.com/watch?v=FOHHIBrDU8o&feature=youtu.be
In terms of secondary procedures, it is important for you and your loved ones to understand two-time frames. First, like many plastic surgery procedures, desired results do not happen overnight. They may take 6-12 months. Secondly, if you need revision rhinoplasty surgery, keep in mind the average patient must wait 10-18 months before doing a second procedure. Lastly, remember that you are the head of your medical team – you deserve the best treatment – from the best people. We wish you and yours the best this holiday season.
About Dr. Jay Calvert:
Dr. Jay Calvert is a board-certified Plastic Surgeon with practices in Beverly Hills and Newport Beach, California. President of the Rhinoplasty Society, his main area of focus is on rhinoplasty, facelifts, and breast augmentation surgery. Understanding that his high-end clientele craves state-of-the-art beauty treatments, Dr. Calvert founded Rox Spa, a state-of-the-art medical spa for non-invasive aesthetic treatments. In high demand as a guest lecturer and plastic surgery expert, Dr. Calvert attends conferences and seminars all over the world, speaking everywhere from the United Arab Emirates to New Zealand. He has been featured on national television shows to include THE TYRA BANKS SHOW and THE DOCTORS. For more information on Dr. Jay Calvert, and his practice please visit http://www.drcalvert.com.
You can also now listen to Dr. Calvert's new plastic surgery podcast on Apple Podcasts: https://podcasts.apple.com/us/podcast/beverly-hills-plastic-surgery-podcast-dr-jay-calvert/id1481017059
Instagram: https://www.instagram.com/drjaycalvert/
Twitter: http://www.twitter.com/jaycalvertmd
YouTube: https://www.youtube.com/user/DrCalvertTV
For more information on Dr. Jay Calvert and his practice visit http://www.drcalvert.com.