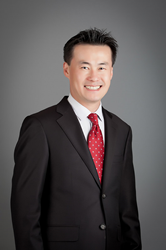 West Covina, CA (PRWEB) April 16, 2020
Dr. Jin Kim, dual board-certified periodontist and implant surgeon, is offering patients with gum disease in West Covina, CA the only FDA-cleared laser treatment for gum disease, LANAP®. This solution is one of the most gentle, minimally invasive and effective solutions to cleansing disease from the mouth. As a periodontist, Dr. Kim offers a more detailed and experienced approach to treatment for gum disease in West Covina, CA. He also understands the effect gum disease can have on patients' oral health and overall health.
LANAP is a revolutionary approach to treatment for patients suffering from gum disease thanks to its "no cut, no sew, no fear" approach. Traditional gum disease surgery involves removing infected tissue with scalpels, scraping away bacteria and tartar and suturing the gums around the teeth. With LANAP, there are no scalpels or sutures and the procedure boasts minimal bleeding with virtually no discomfort. The entire procedure involves a gentle laser light to evaporate infection and diseased tissue. No cutting of healthy tissue is involved and with no sutures, most patients can feel like themselves again just a day after surgery.
Gum disease is a common condition that affects nearly half of the adult population in the United States. The disease affects both the hard and soft tissues of the mouth and is one of the leading causes of bleeding gums, loose teeth and bad breath. Common symptoms of gum disease include:

Bleeding gums with brushing or flossing
Loose or shifting teeth
Gum recession
Constant bad breath
Red, puffy gums
Without timely treatment, gum disease can advance and eventually cause tooth loss and jawbone deterioration. Since oral health has been connected to overall health, if gum disease is left untreated it can also lead to systemic health conditions like heart disease, stroke, and a weakened immune system.
Periodontists are leaders in treatments for gum disease, as they have spent extra years studying and practicing treatment on the hard and soft tissues of the mouth. Dr. Kim is a board-certified periodontist, meaning that he not only spent the extra years studying periodontology, but he proved his expertise by passing a comprehensive board exam. Receiving gum disease treatment from a board-certified periodontist means that patients can rest at ease knowing their health and comfort is in the hands of one of the leading professionals in the field. This expertise in periodontology has led to Dr. Kim being a world-renown lecturer on gum disease and all aspects of the hard and soft tissues of the mouth.
Patients experiencing bleeding gums or recurring bad breath in West Covina, CA are encouraged to seek gum disease care from Dr. Kim at either of his practice locations. Appointments can be made by contacting 909-860-9222 for the Diamond Bar location or 714-898-8757 for the West Garden Grove location. Appointments can also be requested online at http://www.drjinkim.com.
About the Periodontist
Dr. Jin Kim is a periodontist dedicated to providing personalized dental care in Diamond Bar and Garden Grove, CA. Dr. Kim attended the University of Sydney Faculty of Dentistry before furthering his education with an advanced degree in pathology from the Medical School of the same University. Dr. Kim completed a periodontics and implant surgery residency at UCLA School of Dentistry and is board-certified by the American Board of Periodontology and the American Board of Oral Implantology/Implant Dentistry. He is a past president of the Western Society of Periodontology and was also inducted to be a Fellow of the prestigious American College of Dentists and earned Fellowships in the International Congress of Oral Implantologists and the American Academy of Implant Dentistry. Dr. Kim lectures and holds faculty positions at a number of universities including UCLA School of Dentistry and abroad. He has spoken at no less than 36 different countries across the globe as well as national and international academic and clinical associations and universities including the International Association of Dental Research, American Academy of Periodontology and Academy of Osseointegration. To learn more about Dr. Jin Kim and the services he offers, visit his website at http://www.drjinkim.com or call 909-860-9222 for the Diamond Bar location or 714-898-8757 for the West Garden Grove location to schedule an appointment.