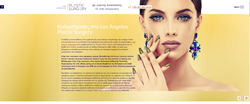 "I am thrilled to offer this revolutionary facelift procedure to qualified patients, providing amazing aesthetic results with a fast recovery time, which is typically around 3 days," says Dr. John M. Anastasatos
LOS ANGELES (PRWEB) November 08, 2021
Los Angeles Plastic Surgery's founder, Dr. John Anastasatos, is widely known as one of the best in his field, earning global recognition for his beautiful surgical results. He is thrilled to share his newest groundbreaking technique in facelifting, which combines (MIMS) minimally invasive midface suspension to address the jowl area, double chin correction with liposuction and the removal of buccal fat pads, a naturally-occurring pad of fat in the cheek hollow area. As one of the most bothersome areas of the face affected by aging, the jowls can effectively be corrected with Dr. Anastasatos' (MIMS) minimally invasive midface suspension technique. The procedure is done percutaneously, meaning there are no classic cuts in front and around the ears, and uses special microsurgical equipment that creates a small 1-inch incision in the temporal area that is hidden in the hairline. The MIMS procedure provides an anti-aging effect to give an overall more refreshed, youthful appearance. Dr. Anastasatos also addresses double chin formation that is caused by excess fat and skin laxity. He uses his advanced skill to perfect liposuction of the neck that extends to the jawline, removing excess fat of the neck and tightening the neck skin, removing the look of a double chin. The combination of the minimally invasive "cutless" MIMS procedure and double chin correction with liposuction defines and rejuvenates the jawline, and elevates the cheeks, signaling youth and vitality. Dr. Anastasatos' "trifecta" facelift procedure also includes buccal fat pad removal. In many patients, mid/lower check fullness is due to prominent fat pockets called buccal fat pads. The incisions to remove them are inside the mouth, so they are invisible. Removing the buccal fat pads can remove the "chubby face" appearance and allow for the well-defined jawline and cheeks to stand out more. By merging these three procedures, Dr. Anastasatos' minimally invasive facelift can address the most visible signs of aging that present on the face.
"I am thrilled to offer this revolutionary facelift procedure to qualified patients, providing amazing aesthetic results with a fast recovery time, which is typically around 3 days," says Dr. John M. Anastasatos
More about Dr. John M. Anastasatos:
Dr. Anastasatos offers a full menu of services to improve one's appearance, with gold-standard facelifts, advanced breast augmentations, body lift procedures and non-surgical treatments. Dr. John Anastasatos trained at Brown University Medical School, Columbia University-Presbyterian Medical Center and The University of Alabama at Birmingham (UAB). He is certified by the American Board of Plastic Surgery and is an active member of the American Society of Plastic Surgery and the American Society of Aesthetic Plastic Surgeons.
To schedule a consultation with Dr. John Anastasatos or for more information about practice locations in Beverly Hills and Bakersfield, CA, or Athens, Greece, please call (310) 888-4048, or visit his website at http://www.LosAngelesPlasticSurgery.com.