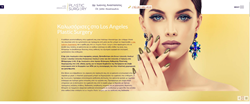 I am thrilled to share our new website for our Athens, Greece, location. It is a great resource to help my Greek patients stay informed and involved in the services and procedures we provide at our clinic, says Dr. Anastasatos
ATHENS, Greece (PRWEB) June 29, 2021
John Anastasatos, M.D., FACS, is pleased to announce his brand-new practice website, https://www.drjohnanastasatos.gr/ for his Los Angeles Plastic Surgery location in Athens, Greece. Dr. Anastasatos is board certified and has gained an international reputation for his knowledge and ability to create incredible, natural-looking results in both cosmetic and reconstructive plastic surgery, including revision cosmetic surgery of the face, breast, body and nose. The innovative website for Greek speakers provides high-resolution photos and informative content that accurately reflects Dr. Anastasatos's expertise and artistic talent. It is easy to navigate and features an appealing layout that is tailored for the needs of both current and potential patients, keeping them fully educated on the treatment options available at the cutting-edge practice in Athens, Greece. Whether it's a small cosmetic change, a facelift, a rhinoplasty, breast augmentation or a full body makeover, patients can expect exceptional results with individualized care when they choose Los Angeles Plastic Surgery and the skilled hands of Dr. Anastasatos.
The new site represents the state-of-the-art plastic surgery clinic in Kifisia, Athens Greece. The plastic surgery clinic in Athens by Dr. John Anastasatos is an extension of his Beverly Hills and Los Angeles plastic surgery clinic. It has been his long-term vision to be able to offer the same high level of expertise available to his Beverly Hills patients in Athens. The aim is to serve patients in Greece and Cyprus, but also patients from The United States who wish to combine plastic surgery in Greece and recover in private beautiful settings.
"I am thrilled to share our new website for our Athens, Greece, location. It is a great resource to help my Greek patients stay informed and involved in the services and procedures we provide at our clinic," says Dr. Anastasatos
More about Dr. John M. Anastasatos:
Dr. Anastasatos was born in the United States, but his family roots are in Athens, Greece. Dr. Anastasatos earned his bachelor's degree in economics from Brown University in only three years and was immediately accepted in their School of Medicine. General surgical training followed at Columbia-Presbyterian Hospital, an affiliate of Columbia University. Dr. Anastasatos then moved south to the University of Alabama, Birmingham (UAB) for his cosmetic and reconstructive residency. He also completed a fellowship in hand surgery, upper extremity and micro surgery. Upon his certification by the American Board of Plastic Surgery, he was appointed as an assistant professor of plastic surgery. During this time, Dr. Anastasatos also served as an attending surgeon at UAB Hospitals, The Children's Hospital and Veterans Administration Hospital. He then moved to Southern California and established his own plastic surgery clinic in 2007 in Beverly Hills. As his practice and reputation grew, he opened a second location in Athens, Greece, and another in Bakersfield, CA. Dr. Anastasatos has earned global recognition for his beautiful surgical results, treating patients from all over the world.
To schedule a consultation with Dr. John Anastasatos or for more information about his practice located at Palas Kefalari, Kolokotroni 23 Kifisia, 145 62 in Athens, Greece, please visit https://www.drjohnanastasatos.gr/ or call +30 210 682 4021.