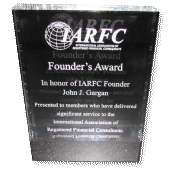 "I can't think of any better person who exemplifies the qualities of ethical behavior and who has given time and energy selflessly..." - IARFC Trustee Chair and CEO, H. Stephen Bailey, Ph.D., MRFC®
MIDDLETOWN, Ohio (PRWEB) February 03, 2021
For 2021, the IARFC is proud to award this honor to Dr. John M Rogers, MRFC® of Rogers Financial Group, a longtime member of the IARFC and outstanding contributor of service to the Association.
His past involvement has been a significant role in the leadership of the IARFC, serving on the Board of Directors for multiple terms, performing as Master of Ceremonies at IARFC events, presenting to members at meetings, assisting with Public Relations, fundraising for the National Financial Plan Competition, and contributing to the IARFC Register publication not to mention an ardent IARFC cruise traveler and conference attendee.
In addition, he carries his own firm's family philosophy to the IARFC Staff and is consistently available for consultation, sage advice, and volunteer tasks. According to IARFC Trustee Chair and CEO Dr. H. Stephen Bailey, MRFC®, "I can always count on Jon to be a fair and giving individual when it comes to working through IARFC business and providing a leadership role for the betterment of the Association. I relied on his support and judgement throughout his years on the Board of Directors. I can't think of any better person who exemplifies the qualities of ethical behavior and who has given time and energy selflessly."
In his own personal financial services pursuits, his company has been helping people achieve their financial objectives for over 40 years. Along side this experience, he continually seeks to be informed and educated on the most up-to-date financial and tax information that may affect clients. Jon also is an Adjunct Professor at Webster University and North Greenville University, where he teaches courses in Finance, Marketing, and Business.
"In receiving the Founder's Award, I am humbled by the honor bestowed upon me by my peers," expressed Rogers. "I have enjoyed my time in the IARFC and received much satisfaction watching the Association grow especially in the past few years under the guidance of Trustee Chair Steve Bailey. I miss being part of the core group of Directors but consider myself available for any Association future needs."
This Founder's Award will be presented virtually to Jon Rogers, MRFC® during April Awards Month. More information on all Association Awards can be found on http://www.iarfc.org/events/awards.