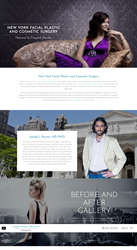 Facial plastic surgery should always be catered to the unique needs and goals of each patient. Knowing my patients are pleased with their experience and results at my practice is an honor I deeply value, says Dr. Joseph Rousso
NEW YORK (PRWEB) August 16, 2018
Dr. Joseph J. Rousso is a leading facial plastic surgeon who serves patients from two convenient office locations in New York City. As an experienced and talented surgeon who is certified by the American Board of Facial Plastic & Reconstructive Surgery, Dr. Rousso is qualified to offer a wide range of surgical and non-surgical procedures for the face and neck. In fact, he carries world-renowned expertise in performing rhinoplasty, deep-plane facelifts, ear reconstruction and pediatric facial plastic and reconstructive surgery, such as cleft lip and palate repair.
Dr. Rousso's elite skill set, along with his commitment to balance art and science and optimize one's appearance in the most natural way, has led countless patients to leave superior reviews and high rankings across multiple online sources. Find Local Doctors, a credible online directory, recognizes this achievement in patient satisfaction and has named Dr. Rousso a 2018 Top Patient-Rated Plastic Surgeon for New York City. Find Local Doctors helps consumers connect with qualified and reputable physicians in their area using a trusted and easy-to-navigate website.
At the practice of Dr. Joseph Rousso in New York City, patients have access to a number of advanced reconstructive and cosmetic procedures as well as the latest and most innovative treatments in facial rejuvenation. Dr. Rousso believes in delivering optimal results without creating an operated look. He refers to this as the "golden balance of facial rejuvenation." He is known for employing cutting-edge techniques and using his keen understanding of art and science to achieve this balance. When it comes to reconstructive procedures, he adheres to a "form and function" approach that considers nasal and facial functions, such as breathing, eating and smiling, while also enhancing appearance.
"Facial plastic surgery should always be catered to the unique needs and goals of each patient. Knowing my patients are pleased with their experience and results at my practice is an honor I deeply value," says Dr. Joseph Rousso.
Dr. Rousso is known as one of Manhattan's Premier Rhinoplasty and Facial Aesthetic & Reconstructive Surgeons, with a reputation amongst his colleagues as an expert in the field. He serves patients from two medical offices in Manhattan, including New York Eye and Ear Infirmary of Mount Sinai as well as Mount Sinai Doctors East 85th Street.
About Dr. Joseph J. Rousso
Dr. Rousso completed a surgical internship at the Beth Israel Medical Center, followed by a highly-coveted residency at the prestigious New York Eye & Ear Infirmary in Otolaryngology-Head & Neck Surgery. He was then one of a handful of surgeons selected to be a fellow of the American Academy of Facial Plastic & Reconstructive Surgery (AAFPRS) program. Dr. Rousso received further facial plastic surgery training through the Albert Einstein College of Medicine and the New York Center for Facial Plastic & Laser Surgery
Dr. Rousso is qualified to perform all aspects of facial plastic & reconstructive surgery. His primary specialties include rhinoplasty, cosmetic surgery of the aging face, minimally invasive facelift procedures, Mohs/Cancer reconstruction of the face, head & neck, cleft lip & palate repair, traumatic injury & plastic closures, corrective speech surgery otoplasty (ear pinning) & reconstruction of congenital ear deformities, functional and cosmetic rhinoplasty and all aspects of minimally invasive facial rejuvenation including injectables.
If you would like to get more information about the elite credentials or services of Dr. Joseph Rousso, please visit https://facialplasticsurgery-nyc.com or call (212) 381-6110.