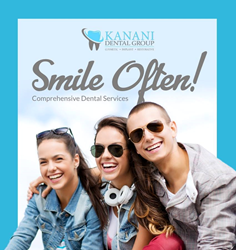 LOS ANGELES (PRWEB) April 01, 2019
Tooth loss can be caused by health risk factors, and the loss of teeth can also increase health risk factors, says a March 7, 2013 Web MD article, "Tooth Loss Associated with Higher Risk for Heart Disease" (webmd.com/oral-health/news/20130307/tooth-loss-associated-with-higher-risk-for-heart-disease). Research from an international study spanning just under 40 countries showed links between the loss of teeth and the loss of heart health, insulin acceptance, and good blood pressure levels. Dr. Kaveh Kanani, a cosmetic dentist in Woodland Hills, says that regular dental checkups can help patients deal with symptoms early on, but adds that sedation techniques can also help those who just fear getting into the dentist's chair.
The study mentioned in WebMD was presented recently at the American College of Cardiology annual meeting, in San Francisco. One of a few studies that show a link between heart health and oral health, the study results haven't yet been deemed conclusive, because the study results are still due to be posted in a peer-reviewed journal.
Some of the results support other study's findings, like the link between the loss of teeth and smoking. Buffalo News reported on April 20, 2013, "Smoking, tooth loss linked", (buffalonews.com/apps/pbcs.dll/article?AID=/20130420/REFRESH/130429904/1063)that women experiencing menopause after smoking may also experience many more lost teeth than non-smoking women. Smoking itself seems to bring on more tooth loss linked to gum disease than to cavities, but tooth loss at any age is discouraging, especially when it brings dental implant costs along with it.
Other results from the study posted on WebMD, which involved almost 16,000 people, were a little more surprising – like the link between the loss of teeth and diabetes. Apparently, instances of lost teeth can increase diabetes risk by 11% each time. Blood pressure levels and high cholesterol levels were also matched up with bleeding gums, which is an early warning sign of gingivitis and periodontitis. Apparently, an "enzyme that promotes inflammation and the hardening of the arteries", Lp-PLA2, is the culprit – leading to higher blood pressure and blood sugar levels.
The problem for dental patients, says the Woodland Hills dentist, is that dental implants cost in more ways than one. For example, dental implants really wouldn't cure an existing health problem – it would just cosmetically deal with the after-effects of a current health issue. Prevention, such as cleaning and flossing (and regular dental checkups) does a great deal more for keeping away dental implant cost than almost anything else – except for the avoidance of smoking and regular exercise.
Sedation procedures can also be helpful, says the dentist in Woodland Hills, Dr. Kanani. Since many people have deteriorating oral health because they fear going to the dentist, it's possible to keep fear at bay by being sedated through anesthesia, nitrous oxide, or by taking a pill. That way, when the patient wakes, the work is all done without worry. Dr. Kanani also has a new laser-driven WaterLase© iPlus machine that takes the pain out of the dentist equation, so that patients need not fear that either – or the prices, which range around $400 for both sedation and dental implants.
Dr. Kaveh Kanani graduated from California State University after majoring in biology, and gained a doctorate in Dental Surgery via study at New York University. The court-approved American Academy of Implant Dentistry gave him an Associate Fellowship, after which Dr. Kanani took multiple AAID Maxi courses so that he could work as an associate of the Southern California Family Dentistry, and South Bay Dental. Dr. Kanani has run his own office, Woodland Hills Dental Spa, since 2001.
To learn more about Dr. Kanani and his approach to dental procedures, visit woodlandhillsdentalspa.com, or call (818) 962-1141 to meet with Dr. Kanani.