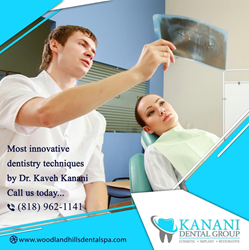 TARZANA, Calif. (PRWEB) August 04, 2019
With the summer season upon us, trusted Tarzana dentist Dr. Kaveh Kanani wants to remind patients the importance of continuing to care for your oral health even during the summer months. Summertime typically means people are eating treats higher in sugar, and consuming more acidic foods, such as juice. Additionally, for many, summer vacation can completely throw off an individual's oral health routine. Dr. Kanani shares tips on how to keep your oral health in shape during the summer months.
Amidst summer vacations and regular BBQ events, Dr. Kanani wants to remind patients that it's still important to brush and floss twice a day. For those with children, it's imperative to make sure they're also brushing and flossing twice a day. The time that should be spent brushing and flossing per day is two minutes with fluoride toothpaste. To help children get in the habit of brushing their teeth twice a day, Dr. Kanani recommends parents brushing and flossing side-by-side with their children.
As it gets hotter across the country, and especially the Valleys in Los Angeles, where Dr. Kanani's eco-friendly dental office is, people will be consuming snacks and drinks with higher concentrations of sugar. Dr. Kanani urges patients to watch their intake of lemonade, juice, and soda. You can enjoy sugary beverages and snacks sometimes, but not all the time. Instead, try to drink more water to beat the heat. Consuming too much sugar can enable harmful bacteria to thrive in your mouth. For that reason, Dr. Kanani reminds patients to brush their teeth after eating sweets. Additionally, individuals should try and limit their consumption of sweets to one or two sittings, rather than snacking consistently throughout the day.
It's also essential to ensure that you're adequately applying sunscreen throughout the summer days when you'll be spending much time outside. In addition to lathering sunscreen over our skin, Dr. Kanani wants to remind patients that they should be using a lip balm with sunscreen. Applying a lip balm that contains sunscreen during the summer months is one way for patients to lower their risk of contracting oral cancer. Also, individuals should be sure to reapply lip balm frequently if they are eating or drinking. Skin cancers of the lip most often occur in fair-skinned men that are older than 50. However, the lower lip is 12 times more likely to be affected, according to the Skin Cancer Foundation.
Chewing on ice can also be a tempting thing to do during summer. Dr. Kanani encourages individuals to avoid eating ice or other hard substances as doing so has been known to cause accidents that can damage teeth. Additionally, chewing on ice can also wear down your tooth enamel.
During the summer months, and while your traveling, it's also imperative to dry out your toothbrush. A wet toothbrush can be a breeding ground for bacteria. As soon as you arrive at your vacation destination, take your toothbrush out of your case and place it in a cup standing up so that any moisture can drain away.
With the end of summer comes back to school. Dr. Kanani is encouraging families and patients to start booking their back-to-school dental checkup appointments soon.
About Dr. Kanani
As one of the most innovative dentists in Los Angeles, Dr. Kanani's objective is to help patients regain their smiles and their confidence through groundbreaking, non-invasive treatments such complete dentures, partial dentures, and dental implants. Dr. Kanani has been utilizing non-invasive treatment methods to heal patients suffering from many dental issues, including loss of teeth. Individuals in Los Angeles and Woodland Hills who are looking to get dental implants done or looking for an experienced cosmetic dentist can make an appointment with Dr. Kanani today by calling (818) 962-1141, or visiting http://www.woodlandhillsdentalspa.com.