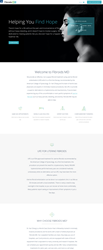 I am excited for users to experience our newly designed website and learn more about treatment options we offer, says Dr. Zhang.
NEW YORK (PRWEB) May 13, 2021
Dr. Karl Zhang and his team are experts in minimally invasive procedures, like UFE, to provide a safe alternative to a hysterectomy. His state-of-the-art clinic, Fibroids MD, is located at 115 E 57th St, Ste 420-430 in New York City. Dr. Zhang is pleased to share the newly designed website for his practice, http://www.fibroidsmd.com. The user-friendly and innovative website offers patients an appealing layout that is tailored to meet their needs. The easy-to-navigate site is designed to fully inform both new and existing patients on the treatment options available at Dr. Zhang's cutting-edge practice.
Uterine fibroid embolization (UFE) is an effective and minimally invasive outpatient procedure that can be completed in as little as 30 minutes and is an FDA-approved treatment for uterine fibroids. As a first-line treatment, this procedure can prevent the need for a hysterectomy and myomectomy. Nearly 300,000 hysterectomies performed every year are considered medically unnecessary when an alternative, such as UFE, may have been the more effective option. Uterine fibroid embolization can be done in an outpatient clinic with a local anesthetic. There is rarely a need to stay overnight in the hospital, and patients can recover at home more comfortably. Many patients report seeing an improvement of their symptoms in just a few days. Dr. Karl Zhang's outpatient facilities are equipped with advanced technology that is equivalent to many university and research hospitals. Dr. Zhang also offers many complementary treatments for pelvic pain, varicose veins and more.
"I am excited for users to experience our newly designed website and learn more about treatment options we offer," says Dr. Zhang.
More About Dr. Karl Zhang:
Dr. Karl Zhang earned his medical degree from Johns Hopkins University and completed his residency at the New York University Medical Center and State University of New York Medical Center. As a fellow at the Duke University Health System, he received a total of over six years of teaching from specialists in minimally invasive procedures. He has also completed mini fellowships at world-renowned centers such as Memorial Sloan Kettering and the University of California San Francisco. Dr. Zhang has been invited numerous times to present his new research work in multiple national and international meetings; his many research projects are published in over 20 academic journals. While his patients and their needs are central to any medical care, Dr. Zhang has a unique understanding of the management side of the healthcare industry to streamline best and most efficient service to his patients. In addition to his medical degrees, he has also earned an MBA in both finance and entrepreneurship from the Leonard N. Stern School of Business at New York University. Since then, he has become a clinical assistant professor at the Jefferson Medical College of Thomas Jefferson University.
For more information or to schedule an appointment, please visit http://www.fibroidsmd.com or call (212) 254-0149.