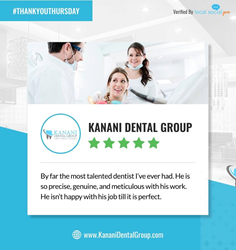 LOS ANGELES (PRWEB) May 07, 2019
Dr. Kanani, one of the most popular family dentists in Woodland Hills is offering an ongoing promotion on Zoom! teeth whitening and dentals implants. These affordable procedures are being offered to tie in with Mother's Day.
According to Dr. Kanani, there is no better time than the present to offer up a promotion on two of his most popular procedures. Mother's Day is celebrated the world over and is known as a special day to many, especially in the United States. Instead of giving conventional gifts, Dr. Kanani recommends offering one's mother the gift of good oral health. As one of the most sought after general dentists in Woodland Hills, Dr. Kanani is pleased to offer his patients procedures that make use of highly advanced dentistry equipment and his team of skilled staff. Patients come from far and wide to seek his expertise on various oral surgery and cosmetic dentistry procedures.
Dental Implants With Dr. Kanani
Dental implants are a long term solution to tooth loss and should be embraced by those suffering from missing teeth. Dr. Kanani is one of the top experts who offers general dentistry in Woodland Hills. Known as the dental implants guru, Dr. Kanani is highly trained when it comes to this form of oral surgery. He has even designed his own method of inserting dental implants. Known as the Flap-Less/Drill-Less dental implants, this Woodland Hills dentist performs this procedure by using dental instruments to expand the jawbone. A gap is formed in the jawbone and the dental implant is placed into it. A major perk to opting for Dr. Kanani's method as opposed to conventional methods is the fact that he cuts out the need for block bone graft surgery. This surgery will set the patient back another $4,000. Not only that, Dr. Kanani's method calls for less healing time. Mothers deserve the very best treatment available to them and Dr. Kanani is the right dentist to head to for quality service. In line with Mother's Day, Dr. Kanani is ensuring that dental implants cost less than usual and is offering this procedure at a starting rate of $799.00.
Zoom! Teeth Whitening.
Another service being offered by Dr. Kanani to tie in with Mother's Day is zoom teeth whitening. Zoom! is an innovative teeth whitening procedure that takes less than 45 minutes to complete. It lightens up discolorations of enamel and dentin and promises light and clean teeth. According to the American Academy of Cosmetic Dentist (AACD) 99% of Americans believe that the smile is the most crucial social asset that one could have. Dr. Kanani and his team are committed to giving patients the best smile possible. For the exceptional rate of $299.00, patients who undergo this short procedure will walk away with a set of clean and shiny teeth worthy of a toothpaste commercial.
On top of discounted procedures on Zoom! teeth whitening and dental implants, Dr. Kanani is also offering complimentary consultations for first time patients. Give the gift of good oral health this upcoming Mother's Day by contacting Dr. Kanani at (818) 962-1141 or http://www.woodlandhillsdentalspa.com.