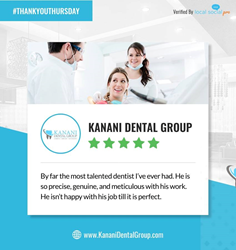 LOS ANGELES (PRWEB) April 29, 2019
Dr. Kaveh Kanani D.D.S. is the head of Around the Corner Dental Health Spa, the most popular family dentistry clinic in Woodland Hills. This well established general dentist has recently unveiled an inventive method of inserting dental implants.
The goal of dental implants is to replace missing teeth. When a tooth is missing for an extended period of time, the jawbone that used to hold the root of the tooth suffers from moderate to severe bone loss. When this happens, the jawbone is not able to support the implantation of a titanium dental implant as this requires drilling into a significantly eroded and weakened jawbone. The patient will then have to undergo what is known as a block bone graft surgery where he or she is placed under anesthesia and a small piece of bone is removed. The bone is typically taken from the ribs, chin, hip or cadaver. This block of bone will then be placed into the jawbone to create a thicker platform where the dentist can then drill and place the dental implant into.
This is when Dr. Kanani's method showcases its superiority. Known as the Flap-less/Drill-less Surgery Method, it allows patients to forgo the need to undergo block bone graft surgery. There is no need to drill into the jawbone to place the dental implant as Dr. Kanani uses a series of dental instruments to expand the jawbone until a sufficient pocket has formed. All this is done without losing any bone tissue as Dr. Kanani has figured out a way to condense the outer bone into a thicker wall which creates more support for the implant. He will then place the dental implant into the gap, suture it close and give the patient several months to recover. Once the gap has healed, Dr. Kanani will place a replacement tooth over the implant, giving the patient a perfect set of teeth.
The innovative aspect of this method is that its creator has successfully engineered a way to insert dental implants without the need to drill into the jawbone and cut the gum open. This promises the patient a much shorter healing period, less pain and a less hefty dental bill. When it comes to Dr. Kanani's method, patients need not undergo block bone graft surgery and this saves them thousands of dollars in dental implant costs.
There is no doubt that Dr. Kanani has significantly transformed the way that dentists and patients alike approach dental implants. The Flap-less/Drill-less Surgery Method is a clever solution to a worldwide problem as it offers patients the chance to recover a full set of teeth again at a fraction of the cost and pain that it is usually associated with.
Currently, Dr. Kanani and his team at Around the Corner Dental Health Spa are inviting new patients into their fold by offering complimentary appointments to first timers. To find out more about this amazing family dentist in Woodland Hills or to make an appointment, feel free to head to http://www.woodlandhillsdentalspa.com or call (818) 962-1141.