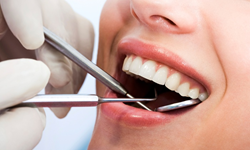 WOODLAND HILLS, Calif. (PRWEB) June 13, 2019
In 2018 a study led by scientists from the National Institute of Dental and Craniofacial Research and published in Science Translational Medicine reported that periodontal disease, otherwise known as gum disease, may be driven by Th17 immune cells. These cells, which inflame and destroy tissues therefore causing gum disease, are triggered in our mouths by an unhealthy bacterial community.
According to the study, gum disease is a common dental disorder that affects almost half of American adults over age 30, and 70 percent of adults 65 and up. Gum disease is caused by bacteria that trigger inflammation of the tissues that surround the teeth, which can lead to bone loss in advanced stages of gum disease, also called periodontitis.
So, what can Los Angeles patients do to lessen the release of these Th17 cells that can cause gum disease? A separate study published in 2017 in the journal Immunity found that chewing food – also known as mastication – can stimulate the release of Th17 cells in the mouth. According to the study, which took place in the UK, the way that Th17 cells are produced in the mouth remains unclear, but the long-term act of mastication can increase the risk of periodontitis.
As eating and diet may be linked to the risk of gum disease, Dr. Kaveh Kanani shares a few tips on how to combat potential gum disease with a healthy diet. Below are several food items that can lead to healthier gums.
Ginger Root
Ginger root is thought to be a healing herb. Because of its anti-inflammatory properties, ginger can promote healthier tissue in your mouth.
Milk
Dairy foods, in general, are packed with bone-fortifying calcium, which helps remineralize teeth. Drinking milk can also neutralize acids produced by bacteria. Too much bacteria in our mouths can lead to gum disease.
Greens
Vegetables, such as kale and spinach, are filled with mouth-approved vitamins and minerals. Leafy greens hold vitamin C, which helps boost the production of red blood cells and reduces inflammation.
Onions
Raw onions are a potent bacteria-fighting food. Onions contain an antimicrobial ingredient that kills bacteria. Also, onions contain Sulphur compounds that help prevent against tooth decay.
Positive oral hygiene and a healthy diet can help Los Angeles patients stay clear away from gum disease. For patients who may be experiencing the beginning stages of gum disease, it's important to see Dr. Kanani right away. If left untreated, gum disease can lead to tooth decay, tooth loss, and more.
About Dr. Kanani
As one of the most innovative dentists in Los Angeles, Dr. Kanani's objective is to help patients regain their smiles and their confidence through groundbreaking, non-invasive treatments, such s the Pinhole Surgical Technique to treat gum recession. Dr. Kanani has been utilizing non-invasive treatment methods to heal patients suffering from many dental issues, including loss of teeth. Individuals in Los Angeles and Tarzana who are suffering from gum disease can make an appointment with Dr. Kanani today by calling (818) 962-1141, or visiting http://www.woodlandhillsdentalspa.com.