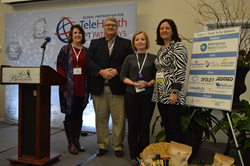 As physicians consider adding telehealth to their practices, Dr. Lane serves as a wonderful example to follow.
WAYCROSS, Ga. (PRWEB) March 29, 2019
Global Partnership for Telehealth recognized Dr. Kayln Lane of Unison Behavioral Health as the Telehealth Provider of the Year at the telehealth agency's Tenth Annual Conference last week.
According to Unison's CEO Glyn Thomas, Dr. Lane's award is well-earned. "Unison is fortunate to have Dr. Kayln Lane as our medical doctor," Thomas said. "She is triple board certified in Adult, Child, and Forensic Psychiatry and provides outstanding leadership and excellent clinical care."
Dr. Lane received the reward due to her active role in providing psychiatric services to children through school-based telehealth clinics. According to Sherrie Williams, COO of Global Partnership for Telehealth, Lane consistently provides quality services to the Ware, Atkinson, and Pierce County School Systems.
"Dr. Lane exemplifies what a true telehealth physician-champion looks like," Williams said. "She saw a need in the community and knew that there had to be a better way to reach her patients. As physicians consider adding telehealth to their practices, Dr. Lane serves as a wonderful example to follow."
Dr. Lane was one of several award winners GPT recognized at the conference. The Speech Path, based in Perry, Georgia, won the Telehealth Trailblazer Award, while GPT commemorated ten years of conferences by honoring Jeff Robbins of Tift Regional Medical Center with the Ten Years of Excellence Award. Additionally, Joe Tallent of the Effingham School System was named the company's School-Based Telehealth Person of the Year.
Other award winners include Ken Kirtland and Dylan Fealtman of Georgia Tech University, Dr. Susan McLendon of Meadows Health, and Matthew Soon of Georgia Tech, who respectively won first, second, and third place for poster presentations.
The award ceremony closed the Tenth Annual Global Partnership for Telehealth Conference, which was one of the company's largest ever, with over 150 people in attendance.
Global/Georgia Partnership for Telehealth (GPT) is a nonprofit corporation whose mission is to deliver worldwide access to healthcare by leveraging technology. With a 12-year track record of success developing and implementing sustainable, cost-effective telehealth programs, we are the leading agency globally focused on increasing access to healthcare through innovative use of technology. Currently, GPT manages a network of more than 650 endpoints, including partner providers, health systems, schools, universities, long-term care facilities, correctional facilities, and international mission projects. For more information, visit our website at http://www.gpth.org.