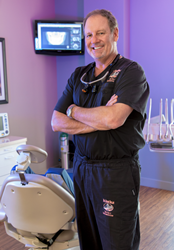 The art of cosmetic dentistry can change a person's life when we are able to take a debilitated dentition and bring that back up to a beautiful smile.
CHARLESTON, S.C. (PRWEB) February 24, 2020
Patients seeking a beautiful smile through cosmetic dentistry in Charleston, SC can receive customized care from Dr. Kevin Hogan of Smiles by Hogan. Cosmetic dentistry is the enhancement of the aesthetics to a patient's smile, including improvement of the teeth, gums and balance of the smile. Dr. Hogan works closely with patients to help them bring to life the beautiful smile they have always wanted.
"The art of cosmetic dentistry can change a person's life when we are able to take a debilitated dentition and bring that back up to a beautiful smile that a patient can use with confidence," says Dr. Hogan. "Cosmetic dentistry blends color, facial dimension and shape of teeth, and we help coach patients so they can end up with the most optimum result."
Enhancing the look of a smile can include multiple cosmetic dentistry procedures depending on the patient's needs, wants and goals. Dr. Hogan begins all cosmetic dentistry smile makeovers with an in-depth consultation to explain treatments and learn what a patient's beautiful smile looks like to them. Using state-of-the-art technology and modern dental techniques, Dr. Hogan can perform one or multiple cosmetic dentistry treatments, including:

Invisalign®
Teeth whitening
Porcelain veneers
Dental implants
BOTOX®
Most cosmetic dentistry treatments affect the teeth or smile directly. This can include repositioning crooked teeth, replacing missing teeth or brightening up the smile. Dr. Hogan also offers cosmetic BOTOX treatment to complement other dental procedures and help "finalize" the smile. BOTOX is simply injected into areas of the face that exhibit some signs of aging, like wrinkles, fine lines or sagging skin, and it tightens these areas up. Often, many patients refer to this as a fountain of youth type solution that can significantly affect their appearance. Choosing BOTOX after receiving cosmetic dentistry treatments not only gives patients a more beautiful smile, but a rejuvenated appearance as a whole.
In addition to cosmetic dentistry, Dr. Hogan offers treatment for missing teeth with dental implants, solutions to gum disease with laser dentistry and complete full mouth reconstruction for patients with severe tooth loss or a failing dentition. For patients who experience dental anxiety or fear, Dr. Hogan offers oral conscious sedation. This sedation puts patients to ease and helps them relax while in the dentist chair.
Those interested in improving the look of their smile with cosmetic dentistry in Charleston, SC are encouraged to schedule an appointment with Dr. Hogan by calling 843-216-0908 or visiting http://www.smilesbyhogan.com.
About the Doctor
Dr. Kevin Hogan is a general dentist providing individualized care for patients in Mt. Pleasant, SC. Dr. Hogan is a graduate of the Indiana University School of Dentistry and has completed hundreds of hours of continuing education courses to stay contemporary with the latest dental technologies. In addition, he has also completed coursework with the Dental Organization for Conscious Sedation and has lectured at the University of North Carolina, Emory University, the Saginaw Valley University and AUA-American University of Antigua on head and neck anatomy and oral pathology. Dr. Hogan is a member of the American Dental Association, International College of Cranio-Mandibular Orthopedics, Academy of Laser Dentistry, International Association of Physiologic Aesthetics, Institute for Advanced Laser Dentistry, DOCS (the Dental Organization for Conscious Sedation), International Congress of Oral Implantologists and the South Carolina Dental Association. He is also a past member of the American Straight Wire Orthodontic Association, Maxillofacial Orthopedic Growth and Development, the American Academy of Pediatric Dentistry and the Functional Orthodontic Society. He and his team are dedicated to providing exceptional oral care to patients through personalized treatment plans. To learn more about the services offered by Dr. Hogan, please visit his website at http://www.smilesbyhogan.com or call 843-216-0908.