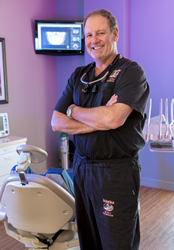 MT. PLEASANT, S.C. (PRWEB) December 29, 2020
Respected and experienced dentist, Dr. Kevin Hogan of Smiles by Hogan, provides life-changing dental implants in Mt. Pleasant, SC to improve the oral health and overall health of his community, with or without a referral. A fellow of the International Congress of Oral Implantologists, Dr. Hogan brings years of dental implant education and experience into every treatment he provides.
Health has been at the forefront of minds since the onset of the coronavirus pandemic. In his years of education and experience, Dr. Hogan has seen the impact poor oral health has on the body as a whole. When someone is missing teeth, often their confidence is lowered, their diet suffers, and their mouth is more prone to decay. When decay is left untreated in the mouth, the bacteria built up can begin to spread throughout the body, causing systemic effects such as heart disease, respiratory disease, diabetes, and stroke.
To help prevent a weakened immune system or risk of systemic health concerns, Dr. Hogan recommends that individuals suffering from oral decay or tooth loss seek treatment right away. Dr. Hogan can provide long-lasting, secure dental implants to replace failing, decayed, or missing teeth. Theses dental implants provide a more stable alternative to dentures and often, stronger biting power. With dental implants, a patient's oral function can be restored up to 99 percent. Because dental implants look just like natural teeth, patients who receive dental implant treatment often experience a boost in confidence as well.
Dr. Hogan not only helps promote strong health through the treatments he offers at his practice, but through the level of safety and care he provides as well. Smiles by Hogan stays up to date with pandemic recommendations from the CDC, ADA, and OSHA. They thoroughly sanitize between patients, stagger appointments, and limit the number of people in the office at a time.
Those suffering from tooth loss in Mt. Pleasant, SC can connect with Dr. Hogan to find out how dental implants could improve their overall health. To schedule an appointment, visit his website at http://www.smilesbyhogan.com or call 843-216-0908.
About the Dentist
Dr. Kevin Hogan is a general dentist providing individualized care for patients in Mt. Pleasant, SC. Dr. Hogan is a graduate of the Indiana University School of Dentistry and has completed hundreds of hours of continuing education courses to stay contemporary with the latest dental technologies. In addition, he has also completed coursework with the Dental Organization for Conscious Sedation and has lectured at the University of North Carolina, Emory University, the Saginaw Valley University and AUA-American University of Antigua on head and neck anatomy and oral pathology. Dr. Hogan is a member of the American Dental Association, International College of Cranio-Mandibular Orthopedics, Academy of Laser Dentistry, International Association of Physiologic Aesthetics, Institute for Advanced Laser Dentistry, DOCS (the Dental Organization for Conscious Sedation), International Congress of Oral Implantologists and the South Carolina Dental Association. He is also a past member of the American Straight Wire Orthodontic Association, Maxillofacial Orthopedic Growth and Development, the American Academy of Pediatric Dentistry and the Functional Orthodontic Society. He and his team are dedicated to providing exceptional oral care to patients through personalized treatment plans. To learn more about the services offered by Dr. Hogan, please visit his website at http://www.smilesbyhogan.com or call 843-216-0908.