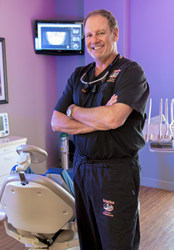 CHARLESTON, S.C. (PRWEB) February 20, 2019
Dr. Kevin Hogan, founder of Smiles by Hogan, recommends individuals experiencing tooth pain in the Charleston, SC area to visit a dentist early to determine the best way to resolve their discomfort. Although many sources of tooth pain can be resolved without surgical intervention, as in the case of root canal therapy, he explains that occasionally a tooth extraction in Charleston, SC, is necessary.
"We do everything possible to avoid a tooth extraction," says Dr. Hogan, who practices conservative, five-star treatment at his practice located in Mt. Pleasant, SC, which serves the greater Charleston region. "If one [a tooth extraction] is necessary, we make sure to make each patient comfortable and use the latest technology to offer the experience they deserve."
To improve patient outcomes during and after surgery, Dr. Hogan and his caring, trusted staff offer a variety of sedation options for those who require a tooth extraction in Charleston, SC. These include sedation dentistry choices specifically focused on individuals with pronounced dental anxiety. The team at Smiles by Hogan sometimes also develop a customized plan to avoid bone loss by placing dental implants post-extraction.
Dental implants take the place of the extracted tooth root, providing healthy stimulation to the bone. Capped with a natural-looking restoration, dental implants provide a long-term, fixed solution to missing teeth. Success rates for dental implants are very high when placed by a dental provider with superior credentials and the latest technology. Those who are not immediate candidates for dental implants may want to speak with the dentist about the possibility of receiving a dental bridge to avoid complications such as drifting of adjacent teeth.
Dr. Hogan welcomes new patients experiencing tooth pain to call his Mount Pleasant, SC, office at 843-216-0908. In addition to providing tooth extraction services, he offers a wide range of general, cosmetic and restorative dentistry treatments for every member of the family.
About the Dentist
Dr. Kevin Hogan is a general dentist providing individualized care for patients in Mt. Pleasant, SC. Dr. Hogan is a graduate of the Indiana University School of Dentistry and has completed hundreds of hours of continuing education courses to stay contemporary with the latest dental technologies. In addition, he has also completed coursework with the Dental Organization for Conscious Sedation and has lectured at the University of North Carolina, Emory University, the Saginaw Valley University and AUA-American University of Antigua on head and neck anatomy and oral pathology. Dr. Hogan is a member of the American Dental Association, International College of Cranio-Mandibular Orthopedics, Academy of Laser Dentistry, International Association of Physiologic Aesthetics, Institute for Advanced Laser Dentistry, DOCS (the Dental Organization for Conscious Sedation), International Congress of Oral Implantologists and the South Carolina Dental Association. He is also a past member of the American Straight Wire Orthodontic Association, Maxillofacial Orthopedic Growth and Development, the American Academy of Pediatric Dentistry and the Functional Orthodontic Society. He and his team are dedicated to providing exceptional oral care to patients through personalized treatment plans. To learn more about the services offered by Dr. Hogan, please visit his website at http://www.smilesbyhogan.com or call 843-216-0908.