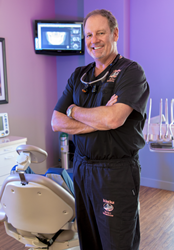 By treating sleep apnea at any stage, it really improves a patient's quality of life by letting them get a good night's rest.
MT. PLEASANT, S.C. (PRWEB) February 09, 2021
Respected Mt. Pleasant, SC dentist, Dr. Kevin Hogan of Smiles by Hogan, is helping his community sleep better with customized sleep apnea treatments. A lack of sleep not only causes physical exhaustion, but can result in mental and emotional exhaustion as well. At a time where mental and physical health can be easily compromised, Dr. Hogan is making it easier for people to receive necessary sleep apnea treatment in Mt. Pleasant, SC so they can get the rest they need.
Sleep apnea is a serious health condition that causes an interruption in breathing during sleep. When someone suffers from sleep apnea, this interruption can occur hundreds of times in one night, often resulting in the brain being deprived of oxygen. If left untreated, sleep apnea can lead to more serious conditions such as hypertension, diabetes, and heart disease. Symptoms of sleep apnea include:

Waking up with headaches
Snoring loudly
Waking up short of breath
Trouble sleeping or even insomnia
Extreme fatigue and drowsiness throughout the day
Dr. Hogan offers customized sleep apnea treatments specifically designed to fit each individual patient's needs. Depending on the type of sleep apnea a patient suffers from, Dr. Hogan can provide custom-fit mouth guards, breathing devices, and other snoring treatments.
"By treating sleep apnea at any stage, it really improves a patient's quality of life by letting them get a good night's rest," says Dr. Hogan. "They can exercise again, maybe lose some weight. If you are going throughout your day and you haven't had a good night's sleep, the last thing you are going to do is try to work out, because you are already fatigued."
In an additional effort to keep his community healthy, Dr. Hogan has implemented strict protocols within his practice to help stop the spread of COVID-19. Smiles by Hogan follows the recommendations of the CDC, ADA, and OSHA. They also have thorough sanitization procedures and limit the number of people in the office at a time.
Those experiencing heavy snoring or trouble sleeping in Mt. Pleasant, SC who are interested in receiving customized treatment for sleep apnea can connect with Dr. Hogan for a consultation. To schedule an appointment, visit http://www.smilesbyhogan.com or call 843-216-0908.
About the Dentist
Dr. Kevin Hogan is a general dentist providing individualized care for patients in Mt. Pleasant, SC. Dr. Hogan is a graduate of the Indiana University School of Dentistry and has completed hundreds of hours of continuing education courses to stay contemporary with the latest dental technologies. In addition, he has also completed coursework with the Dental Organization for Conscious Sedation and has lectured at the University of North Carolina, Emory University, the Saginaw Valley University and AUA-American University of Antigua on head and neck anatomy and oral pathology. Dr. Hogan is a member of the American Dental Association, International College of Cranio-Mandibular Orthopedics, Academy of Laser Dentistry, International Association of Physiologic Aesthetics, Institute for Advanced Laser Dentistry, DOCS (the Dental Organization for Conscious Sedation), International Congress of Oral Implantologists and the South Carolina Dental Association. He is also a past member of the American Straight Wire Orthodontic Association, Maxillofacial Orthopedic Growth and Development, the American Academy of Pediatric Dentistry and the Functional Orthodontic Society. He and his team are dedicated to providing exceptional oral care to patients through personalized treatment plans. To learn more about the services offered by Dr. Hogan, please visit his website at http://www.smilesbyhogan.com or call 843-216-0908.