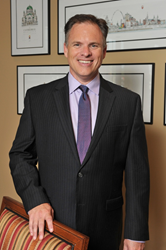 "I instantly realized – we know a lot of patients who no longer have use for their old CPAP machines, and there must be many more people in the community who may have old units or spare parts they would like to donate to such a cause." - Dr. Kevin Postol
BALLWIN, Mo. (PRWEB) April 16, 2020
Across the country, doctors, nurses, and other healthcare professionals on the front lines lack proper personal protection equipment (PPE) equipment to protect themselves while providing life-saving care to patients affected by COVID-19. Dr. Kevin Postol of Ballwin, MO, has found a way to help.
Hunter Engineering and Washington University (under the directive of Dr. Jennifer Delaney) have teamed up to create a new powered air purifying respirator unit PAPR that can be utilized by medical teams treating COVID-19 positive patients. As the lack of N95 masks and face shields has reached critical levels, more and more healthcare teams are falling ill, thinning the lines of defense against the spread of the virus.
These PAPR units can be built using parts from continuous positive airway pressure (CPAP) machines. CPAP units are often prescribed and issued to patients with sleep apnea, a condition that causes temporary cessation of breathing at night, to keep the patient's airway open. However, due to their bulk, noise, and lack of comfort, thousands of these machines sit in homes unused. Some belong to patients from Dr. Postol's practice.
"CPAP machines were the standard of care for sleep apnea for decades," says Belinda Postol, who heads up the Sleep Disorder side of her husband's thriving family dental office. "Today, sleep dentistry lets us treat sleep apnea using an oral appliance, meaning many of our patients are no longer using their old CPAP machines."
The CPAP machine motors and tubing can be cleaned, disinfected, and repurposed in the PAPR production process. The PAPR units can then be distributed to hospitals to provide protection to healthcare professionals.
"We heard about the initiative being headed up by Hunter Engineering," says Dr. Postol. "I instantly realized – we know a lot of patients who no longer have use for their old CPAP machines, and there must be many more people in the community who may have old units or spare parts they would like to donate to such a cause."
Dr. Postol's office is accepting donations of used CPAP machines and parts for recycling at their office starting April 15th. The office will accept these items Mondays through Thursdays from 9 am to 5 PM and using specialized protocols to protect both the public and themselves. The units and parts will be sent to aid in the PAPR production effort.
"At times like these, it's all about working together – as a community and as a nation," says Dr. Postol. "This is one thing we can do to help the brave men and women who are treating those who have fallen victim to this terrible virus. We look forward to seeing our practice family and the rest of our local community come together to be a part of this unprecedented recycling event."
For more information, please contact Belinda Postol at (314) 922-5421‬.