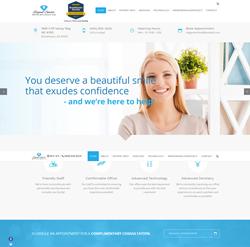 I am so excited to serve the Atlanta community and start building relationships with future patients at Elegant Smiles, says Dr. Kimi Patel
BROOKHAVEN, Ga. (PRWEB) January 23, 2020
Dr. Kimi Patel recently joined the well-respected, professional dental team at Elegant Smiles, which is located at 1955 Cliff Valley Way in Brookhaven, GA. This modern, state-of-the-art dental practice, provides cutting-edge, quality care for patients of all ages in a comfortable atmosphere. Elegant Smiles is committed to delivering dentistry at its best, providing every patient with a pathway toward achieving functional and aesthetic smiles. Dr. Patel is an excellent fit for this team, as she is truly committed to giving every patient an exceptional dental experience. She strives to always offer personalized, comprehensive and compassionate care.
Dr. Kimi Patel was raised in Farmington Hills, Michigan. She attended the University of Michigan, earning her bachelor's degree and also graduated with her dental degree from the University of Michigan College of Dentistry. After completing her doctorate, Dr. Patel completed an AEGD residency (Advanced Education in General Dentistry) at the University of Cincinnati Medical Center. Dr. Patel stays at the forefront of modern dentistry, attending many continuing education courses, and she is up to date on recent research and current dental technology. Dr. Patel and her husband moved to Atlanta, Georgia, from Ohio. Outside the office, Dr. Patel enjoys traveling, cooking, spending time with friends and family and supporting the University of Michigan athletics.
"I am so excited to serve the Atlanta community and start building relationships with future patients at Elegant Smiles," says Dr. Kimi Patel
More about Elegant Smiles:
With a convenient office location to serve residents of the Atlanta metro area, Elegant Smile's highly skilled dentists specialize in all facets of dentistry, including general dentistry, cosmetic dentistry, restorative dentistry and pediatric dentistry. They provide a wide menu of services, such as long-term solutions for sleep apnea, teeth grinding, jaw pain and crooked teeth. From tiny tots to senior citizens, they provide affordable, tailored treatments that meet patient's expected and unexpected dental needs. Elegant Smiles offers emergency dental care, same-day appointments, in-house financing plans and sedation dentistry.
For more information about Dr. Kimi Patel or the services offered at Elegant Smiles, please visit http://www.dentalatl.com or call (404) 634-4224.