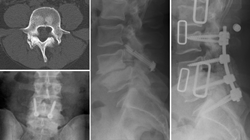 "We appreciate all the patients who trust our care, and continue to refer their family and friends to us for treatment," said Dr. Chin
HOLLYWOOD, Fla. (PRWEB) January 10, 2023
According to court documents in case No.: 16-029968-CA-31 filed in the circuit court of the 11th judicial circuit in and for Miami-Dade County, FL, Dr. Chin and The LESS Institute were sued for fixing a bilateral pars fracture in a muscular-built adult patient with a grade 1 isthmic spondylolisthesis who had suffered a car accident and had acute back pain. The court documents revealed, the patient underwent a pars fracture repair, performed using a Buck's technique using two partially threaded cannulated screws shown to be highly effective in published data. The court documents revealed, the patient did well with no pain post-operatively but at 10 months, an x-ray showed a fracture of one of the screws. In the court documents, Dr. Chin was accused of not doing a standard lumbar fusion with interbody cages and pedicle screw instrumentation.
"I want to do our best for patients. I have the added problem of a public image that I am wealthy because I am an inventor of medical devices and a business owner. I also carry malpractice insurance. This is the reality I face, but truth be told, I have treated thousands of patients but only a handful of lawsuits, so the majority of my patients are not looking to cash in on my perceived wealth, but some do," laments Dr. Chin.
"We will continue to offer our patients high-quality health care and research new and innovative devices to improve treatment for our patients in the outpatient setting. We invented the less exposure surgery philosophy to offer our patients less surgery over more complicated and risky surgeries commonly done in hospitals," said Dr. Chin.
Dr. Chin has published over 85 peer-reviewed scientific articles, multiple books, has 50+ patents and many spine devices being used in US and overseas and has travelled worldwide to teach other surgeons the less exposure surgery treatment philosophy using his proven FDA-approved inventions. "We appreciate all the patients who trust our care, and continue to refer their family and friends to us for treatment."
About LESS Institute
A global outpatient Orthopedic and Spine Surgery Specialty & Research Private Academic Institute of Excellence focused on a wide breadth of technical expertise in surgeries of the entire musculoskeletal system and spine: cervical, thoracic, lumbar, sacrum, and coccyx built on a foundation of Less Exposure Surgery philosophy, techniques and technologies. Less Exposure Surgery (LES) is less invasive than minimally invasive surgery. We utilize the newest available techniques and technologies that have proven efficacy for LES to achieve maximal surgical effectiveness, preserve the patient's natural anatomy and allow for outpatient surgery with quick recovery.