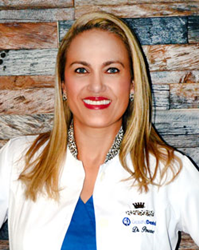 The ability to provide a healthy and confident smile for patients at all stages of life is such a great privilege. I am honored to receive this award because it validates that my patients are satisfied with my level of care, says Dr. Lea Porcaro of Grateful Dental
MARIETTA, Ga. (PRWEB) May 13, 2019
Dr. Leia Porcaro is a Brazilian-born dentist who holds extensive training in multiple facets of dentistry. Her Marietta practice, Grateful Dental, offers a complete realm of dental care services for all ages, including treatments in general, restorative and cosmetic dentistry. While Dr. Porcaro places a strong emphasis on preventative care, she proudly offers some of the most advanced procedures in modern dentistry, including CEREC one-visit dental crowns, Six Month Smiles, ZOOM Whitening and dental implants using 3D imaging technology.
Dr. Porcaro's commitment to cutting-edge dentistry combined with her compassionate and conscientious approach has fostered countless five-star ratings and outstanding reviews from her actual patients. This favorable feedback across multiple online sources has led Find Local Doctors to feature Dr. Porcaro of Grateful Dental as a 2019 Top Patient-Rated Marietta Dentist. Find Local Doctors is an established online directory that helps consumers easily locate qualified and reputable providers in their area.
"The ability to provide a healthy and confident smile for patients at all stages of life is such a great privilege. I am honored to receive this award because it validates that my patients are satisfied with my level of care," says Dr. Lea Porcaro of Grateful Dental
Grateful Dental is located at 2000 Powers Ferry Road in Marietta, GA 30067. The practice is currently accepting new pediatric and adult patients, and they work with most major dental insurance companies.
More About Leia Porcaro, D.M.D.
Dr. Leia Porcaro, D.M.D. who graduated from the University of Alfenas in Brazil with a degree in Dentistry. While in Brazil, Dr. Porcaro opened a private dental practice where she practiced for over 8 years and specialized in cosmetic dentistry and earned an advanced degree in Orthodontics. She has deep experience managing her own dental practice while also seeking ways to provide dental care to the underprivileged. In 2004, Dr. Porcaro began her dentistry career in the United States was one of 25 international applicants out of 850 chosen to attend the prestigious Nova Southeastern University college of dental medicine in Ft. Lauderdale, Florida. Dr. Porcaro achieved her dream of opening her own private dental practice in the United States: Grateful Dental in Marietta, Georgia. Grateful Dental is a comprehensive, family dental practice that serves children and adults of all ages. The practice has a mission to deliver high quality preventative, general, restorative and cosmetic dentistry in a supportive, caring environment.
For more information on the services offered by Dr. Porcaro at Grateful Dental, visit http://www.gratefuldental.com or contact her office in Marietta directly at (678) 593-2979.