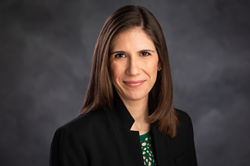 "We look forward to the continued growth and success of the program under Dr. Klein-Patel's direction, providing exceptional medical care to our patients and maintaining a culture of clinical and operational excellence." Cynthia Hundorfean, President and CEO, AHN
PITTSBURGH (PRWEB) February 18, 2020
Marcia E. Klein-Patel, MD, PhD, an accomplished and innovative clinician-leader, has been named chair of the Allegheny Health Network (AHN) Women's Institute.
Dr. Klein-Patel will lead an Institute that encompasses obstetrics, gynecology, gynecological oncology, perinatal mental health, maternal-fetal medicine, and reproductive endocrinology and infertility, across the network's 10 acute-care hospitals.
She succeeds Allan Klapper, MD, who has moved into the role of President of AHN Wexford Hospital. Previously, Dr. Klein-Patel served as the Vice Chair of Operations for the AHN Women's Institute, as well as the Obstetrics and Gynecology Residency Program Director at West Penn Hospital.
Dr. Klein-Patel joined AHN's West Penn Hospital as an attending physician and its director of resident research in 2013, when she co-founded AHN's first midlife gynecology and menopausal medicine practice. Since then she has led numerous initiatives focused on improving the patient experience and boosting operational excellence for the AHN Women's Institute.
"We are thrilled to have Dr. Klein-Patel, a dynamic physician-leader, serve as our chair of the Women's Institute," said Cynthia Hundorfean, President and CEO, AHN. "We look forward to the continued growth and success of the program under her direction, providing exceptional medical care to our patients and maintaining a culture of clinical and operational excellence that assures the best patient experience across all of our care sites."
The AHN Women's Institute has experienced substantial growth over the past several years, with a 70 percent growth in births since the network was formed in 2013. AHN opened a new labor and delivery center at Jefferson Hospital in 2014 and will add another new unit when AHN Wexford Hospital opens in 2021. The Alexis Joy D'Achille Center for Perinatal Mental Health opened at West Penn Hospital in 2018, and a state-of-the-art Neonatal Intensive Care Unit opened there in 2019.
During her time as vice chair of the AHN Women's Institute, Dr. Klein-Patel led initiatives to improve physician engagement, recruit new physicians, and develop protocols for enhancing patient experience. She is AHN's principal investigator in a county-wide program, funded by the RK Mellon Foundation and the RAND Corporation, to reduce infant mortality in Allegheny County by developing and validating protocols to identify infants at high risk of mortality.
Prior to coming to AHN, Dr. Klein-Patel was affiliated with the University of Pittsburgh School of Medicine, and was an attending physician at UPMC Magee-Womens Hospital, where she also completed her residency. She received her bachelor's degree from Syracuse University, and her medical degree and her PhD degree in immunotoxicology from the University of Medicine and Dentistry at New Jersey Medical School.
###
About AHN
Allegheny Health Network (http://www.AHN.org), a Highmark Health company, is an integrated healthcare delivery system serving the greater Western Pennsylvania region. Among the network's 250 clinical locations are ten hospitals — Allegheny General Hospital, its flagship academic medical center in Pittsburgh; Allegheny Valley Hospital in Natrona Heights, Pa.; Canonsburg Hospital in Canonsburg, Pa.; Forbes Hospital in Monroeville, Pa.; AHN Grove City Hospital in Grove City, Pa.; AHN Hempfield Hospital in Hempfield Township; Jefferson Hospital in Jefferson Hills, Pa.; Saint Vincent Hospital in Erie, Pa.; West Penn Hospital in Pittsburgh; and Westfield Memorial Hospital in Westfield, NY. AHN also is home to a comprehensive research institute; Health + Wellness Pavilions; home- and community-based health services; and a group purchasing organization. The network employs 21,000 people and has more than 2,500 doctors on its medical staff. Established in 2013, AHN's member hospitals share legacies of charitable care that date back more than 160 years.