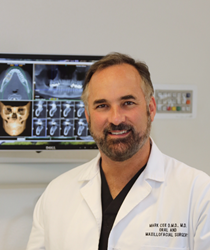 Being trained in the LAPIP protocol gives me a solution to saving ailing and failing implants that patients cherish.
REDDING, Calif. (PRWEB) November 04, 2019
Dr. Mark Cox is now certified in the LAPIP™ protocol for ailing dental implants, a minimally invasive procedure performed with the PerioLase® MVP-7™ dental laser. Maintaining a position on the leading edge of oral and maxillofacial surgery, Dr. Cox can now provide favorable and predictable results to save dental implants and help regrow bone lost to peri-implantitis, as well as help decontaminate extraction sites for successful placement of new implants.
"When it comes to saving smiles, dental implants are an incredible advancement for patients," states Dr. Cox. "Unfortunately, implants do not come with a lifetime guarantee. Being trained in the LAPIP protocol gives me a solution to saving ailing and failing implants that patients cherish."
The LAPIP protocol is a first line treatment approach for failing implants or peri-implantitis as it addresses the underlying causes affecting the health of both the bone and the implant, gum disease. A fiber the width of 3 human hairs is inserted between the implant and the gum. Laser energy kills bacteria, vaporizes cement, and stimulates stems cells found in your bone to reduce the bacterial infection and promote healing.
In addition to rescuing compromised implants, the PerioLase MVP-7 is helpful in decontaminating extraction sites before the placement of a new implant, which may greatly increase the success rate of an implant by placing it in a clean and stable environment free of harmful bacteria.
For information on the LAPIP protocol, call Dr. Cox's office at (530) 221-6900 for an appointment.
About Dr. Cox
Dr. Mark Cox is a board certified Oral and Maxillofacial surgeon specializing in implants and wisdom teeth, practicing in Redding since 1993. He is a graduate of the University of Alabama School of Dentistry and Medicine where he earned both his dental and medical degrees. He completed his residency in Oral and Maxillofacial Surgery at Louisiana State University in New Orleans. Dr. Cox received extensive training in facial reconstruction, orthognathic surgery, facial trauma, anesthesia techniques, dental alveolar surgery, bone grafting, and the surgical placement of dental implants. Some of his Professional affiliations include the titles Diplomate of the American Board of Oral and Maxillofacial Surgery, Diplomate of the National Dental Board of Anesthesiology and Fellow of the American and California Associations of Oral Maxillofacial Surgeons.
Dr. Cox is a native of Northern California and mostly enjoys spending time with his family. Other hobbies include fly fishing, boating, traveling and watching his children's sports.