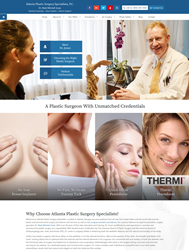 I truly value my patients and being recognized as a Top Patient Rated Atlanta Plastic Surgeon by Find Local Doctors is such an honor. I strive to achieve the best possible results to create positive changes in the lives of my patients, says Dr. Mark Mitchell Jones
ATLANTA (PRWEB) January 28, 2020
Dr. Jones has gained the attention of Find Local Doctors for his consistent exceptional reviews from patients. Find Local Doctors is an easy-to-navigate online directory that helps consumers connect with local physicians who are qualified and reputable. Dr. Mark Mitchell Jones of Atlanta Plastic Surgery Specialists P.C. is a well-respected pioneer in his field, with 20+ years of experience. He is widely known for his ability to perform procedures with a skilled and artistic hand, offering a variety of premier plastic and reconstructive services, aesthetic procedures and the correction of complex genetic deformities. Some of his most popular services include body contouring, breast surgery, facial plastic surgery and ear surgery. Dr. Jones has developed several noteworthy techniques such as breast augmentation that prevents sagging for twenty years, tummy tucks without drains, and painless liposuction. Dr. Jones is one of the foremost ear surgeons in the country with established techniques of ear pinning and reconstruction of total or partial ears. He also offers a full array of non-surgical procedures to help patients look and feel their best. Patients travel from all over the world to receive expert care from Dr. Jones.
"I truly value my patients and being recognized as a Top Patient Rated Atlanta Plastic Surgeon by Find Local Doctors is such an honor. I strive to achieve the best possible results to create positive changes in the lives of my patients," says Dr. Mark Mitchell Jones
More About Dr. Mark Mitchell Jones and Atlanta Plastic Surgery Specialists, P.C.:
Dr. Mark Mitchell Jones is an internationally educated, world-class trained and double board certified (plastic surgery and ENT) surgeon. He received his medical degree from The Medical College of Georgia and also attended the University of Canterbury in New Zealand and Oxford University Medical School in England. Dr. Jones completed his residencies at Johns Hopkins University and Stanford University and was selected for a Fulbright fellowship, training under world-leading plastic surgeons in Paris, France. He has been recognized for his surgical innovations and skill in enhancing both the aesthetics and functionality of the body. Dr. Mark Mitchell Jones is a scholar and a teacher in his field, contributing to medical journals and presenting at numerous conferences and events. Dr. Jones is often interviewed by national publications and broadcast television programs, such as 60 Minutes on CBS.
At Atlanta Plastic Surgery Specialists P.C., patients can expect personalized options and elegant results from a renowned, double board-certified plastic surgeon. From non-surgical facial rejuvenation services to advanced surgical procedures, Dr. Jones leads his practice with a primary focus on helping patients attain or regain their most confident look with the most innovative, preferred methods available industry wide.
For more information about the elite credentials of Dr. Mark Mitchell Jones and Atlanta Plastic Surgery Specialists, P.C., please visit http://www.atlantaplastic.com or call (404) 355-3566.