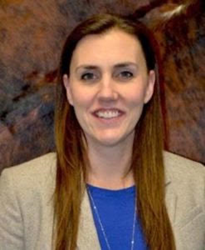 Dr. Ptaschinski's experience in the fields of animal health, farm biosecurity, and information technology is deep and we are thrilled to have her join the EveryPig team.
MIAMI (PRWEB) February 06, 2020
EveryPig, the leading innovator in pig health and production management software, today announced the appointment of Maryn Ptaschinski, DVM, as Veterinary Advisor. One of the most respected experts working at the intersection of animal health and information technology, Dr. Ptaschinski will provide EveryPig with a valuable perspective on the company's current and future product development.
Prior to joining EveryPig, Dr. Ptaschinski served as a program manager for the Institute for Infectious Animal Diseases (IIAD) at Texas A&M University, where she coordinated international training projects and worked with the National Pork Board on the design and development of the AgView and AgConnect projects. She previously oversaw swine herd health at JBS Live Pork (formerly Cargill Pork) in Cantril, Iowa where she served as a senior staff veterinarian. Since 2013, Dr. Ptaschinski has also served as a field veterinary service officer in the U.S. Army Reserve Veterinary Corps, a position she continues to hold.
Ptaschinski earned a Doctorate in Veterinary Medicine from the University of Wisconsin and Bachelor of Science in agricultural education from Iowa State University. She also holds an Executive Veterinary Program certificate in Swine Health Management from the University of Illinois.
"Dr. Ptaschinski's experience in the fields of animal health, farm biosecurity, and information technology is deep and we are thrilled to have her join the EveryPig team," said Founder and CEO Chris Bomgaars. "As someone with abundant first-hand knowledge of the challenges pork producers face on a daily basis, she has her finger on the pulse of the industry and will help as EveryPig anticipates their needs and solves the problems that matter."
Dr. Ptaschinski added: "Throughout my career, I have worked on several technology-driven solutions for animal health and production, and I can say that EveryPig's platform is novel and currently the only technology of its kind that is not just a concept but is a completely functional product ready for wide-scale implementation. EveryPig is a true industry innovator, and I'm thrilled to help the company advance its important mission of improving animal health and bringing healthier food to people's tables."
Earlier in January, EveryPig Founder and CEO Chris Bomgaars addressed top industry leaders at the 2020 Banff Pork Seminar in Banff, Alberta, Canada, where he spoke about how EveryPig's AI-enabled technology helps pork producers succeed in today's globalized marketplace. In the coming weeks, the company plans to expand its platform with a first-of-its-kind logistics module that will enable pork producers, farm directors and logistics managers to drastically improve their efficiency.
About EveryPig
EveryPig is a groundbreaking management app for pig owners, producers and veterinarians. Created by people who truly understand the challenges of pork production, EveryPig is the only software solution of its kind that helps save pigs' lives by recognizing health issues in real time.
The app also employs artificial intelligence to accurately diagnose illnesses in postmortem images, forecast mortalities and provide treatment recommendations, saving vets time and improving pig health outcomes.
Utilized by some of the nation's top pork producers, the sophisticated yet easy-to-use platform supports a wide variety of business models, legacy software integration, and can be installed on any device, including smartphones, tablets, and desktop computers. To learn more, visit: https://www.everypig.co