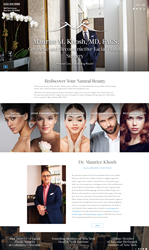 It is such an honor to be recognized a 2021 Top Patient Rated Plastic Surgeon. My goal is to help patients look and feel their best and achieve natural, lasting results, says Dr. Maurice Khosh
NEW YORK (PRWEB) April 05, 2021
Maurice M. Khosh, M.D., FACS is a board-certified plastic surgeon specializing in a wide spectrum of cosmetic and reconstructive surgeries. Dr. Khosh's exceptional reviews through reputable online sources have earned this distinguished award from Find Local Doctors. Find Local Doctors is a user-friendly online directory, helping consumers connect with skilled physicians in their area who are well known for their expertise.
Dr. Khosh carries a unique set of dual board certifications in facial plastic surgery and otolaryngology. He is a highly respected physician who has earned multiple prestigious awards for his advanced technique and beautiful, natural-looking results in cosmetic procedures, such as facelifts, blepharoplasty and rhinoplasty. Dr. Khosh is also widely recognized for his training and specialization in treating breathing issues during rhinoplasty. Additionally, Dr. Khosh offers a wide range of reconstructive procedures to address functional, trauma or cancer-related defects of the face, nose and scalp. Beyond plastic surgery procedures, Dr. Khosh offers a full menu of non-invasive services, including rejuvenation treatments for the eyes, cheeks, lips and neck. He has earned a stellar reputation as one of the best NYC plastic and cosmetic surgeons, providing a compassionate approach and successful results for his patients.
"It is such an honor to be recognized a 2021 Top Patient Rated Plastic Surgeon. My goal is to help patients look and feel their best and achieve natural, lasting results," says Dr. Maurice Khosh
More about Dr. Maurice M. Khosh:
Dr. Khosh graduated from Albert Einstein College of Medicine in New York, where he was inducted into the AOA Medical Honors Society. He completed his residency training at Columbia University in New York and then pursued a fellowship in facial plastic surgery at the University of Washington in Seattle. Dr. Khosh returned to New York where he joined the faculty at Columbia Presbyterian Medical Center as the director of Facial Plastic Surgery Clinics, prior to moving into private practice. He is academically affiliated with the Columbia University College of Physicians and Surgeons as a clinical assistant professor. He is closely involved with the American Academy of Facial Plastic and Reconstructive Surgery (serving on several committees) and the American Academy of Otolaryngology-Head and Neck Surgery (Advising on Board Examination Committee and Continuing Education Committee). In addition to his private practice, Dr. Khosh has collaborated with Michele Rivard, PA, to open Creative Facial Aesthetics. Together they provide excellent patient-centered care, focusing on aesthetics and plastic surgery, with the use of innovative anti-aging technology. For more information on the services offered by Dr. Maurice Khosh, visit his website at http://www.facedoctornyc.com, or contact his office in Manhattan directly at (212) 339-9988.