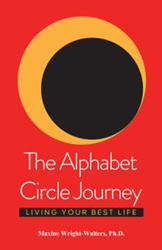 PITTSBURGH (PRWEB) December 04, 2018
According to author and scientist Maxine Wright-Walters, Ph.D., most relationships will eventually come to an end. In her new book, "The Alphabet Circle Journey: Living Your Best Life" (published by Balboa Press), Wright-Walters draws a parallel between the laws of chemistry and human relationships to offer her theory on how and why relationships form and for what reasons they end. The book is available for purchase at: https://www.amazon.com/Alphabet-Circle-Journey-Living-Your-ebook/dp/B07JB289KQ.
Wright-Walters contends that one must understand and come to terms with the cycle of relationships in order to enjoy a peaceful, fulfilling life. Starting each chapter with a letter of the alphabet, Wright-Walters uses metaphors to help readers comprehend human behavior. "The Alphabet Circle Journey" provides readers with insights into developing the skills to understand the specific reasons for the end of relationships, and offers tools for accepting when relationships come to an end. The author also shares anecdotes to bring to life the tools presented in the book.
"Life is about relationships, and all relationships have a time period on them," says Wright-Walters. "No one knows the time, but know that relationships form and end for a reason. When a relationship ends, the individual needs to reflect on the challenges that the relationship presented to them as a lesson to learn and grow from. This will ensure that each one can live an exciting life and learn from the interactions on his or her own journey."
"The Alphabet Circle Journey"
By Maxine Wright-Walters, Ph.D.
Hardcover | 5.5 x 8.5 in | 230 pages | ISBN 9781982205799
Softcover | 5.5 x 8.5 in | 230 pages | ISBN 9781982205805
E-Book | 230 pages | ISBN 9781982205812
Available at Amazon and Barnes & Noble
About the Author
Maxine Wright-Walters, Ph.D., is a nature lover and scientist who loves people. She is a certified behavioral coach and consultant who focuses on teaching and helping people to live their best lives. She is a member of the Squirrel Hill Writers' Group. She is the owner and director of a consulting firm, Environmental Data Validation. She was born on the Island of Jamaica and lives in Pittsburgh with her two sons. Wright-Walters is available on Twitter @DrMaxineWalters and on Facebook @DrMWalters.