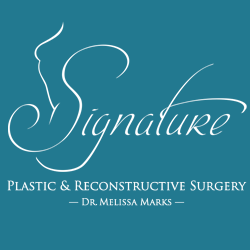 No two people are alike, so you really need to take the time and listen in order to fully individualize their treatment.
PALM BEACH GARDENS, Fla. (PRWEB) October 03, 2018
Dr. Melissa Marks has opened Signature Plastic & Reconstructive Surgery in Palm Beach Gardens, a practice that is proud to offer a wide range of Surgical and Non-Surgical Procedures to Female and Male residents of the area. This includes options for the breast, skin, face, neck, body and hand, as well as non-surgical rejuvenation.
"Most people do not realize that the field of Plastic and Reconstructive Surgery encompasses a wide variety of both Cosmetic and Reconstructive Surgical and Non-Surgical procedures. What I love about Plastic Surgery is that I am not only making positive changes in a person's appearance on the outside, but I am also positively affecting how they feel inside." says Dr. Marks. "I have a strong passion for what I do and that passion comes from the happiness and well being of each patient I treat."
For Dr. Marks, the practice's opening is the culmination of a dream and journey that has come full circle. Growing up in Palm Beach Gardens, by the age of six, she announced to her family that she wanted to be a Plastic Surgeon. Upon graduating Cum Laude from the University of Florida and graduating at the top 5% of her class at Lake Erie College of Osteopathic Medicine Dr. Marks began her rigorous Surgical Training in Michigan. This Surgical Training included Five years of General Surgery Residency which consisted of over 2,000 cases of General Surgery, Trauma Surgery, Endocrine Surgery, Pediatric Surgery, and Vascular Surgery. Dr. Marks is a Board-Certified General Surgeon and this Fall she will have the high honor of becoming a Fellow of the American College of Osteopathic Surgeons.
After completing her General Surgery Residency, Dr. Marks chose to further her training in Plastic, Reconstructive, and Hand Surgery in Iowa. Her three years of extensive training included over 2,500 cases of Plastic Surgery, Cosmetic Surgery, Reconstructive Surgery including Limb Salvage Surgery, Cancer Reconstruction (Breast Focused), and Hand Surgery.
Contrary to many Plastic Surgery Practices, in Dr. Marks' practice, Signature Plastic & Reconstructive Surgery, she prides herself on spending as much time needed with the patient to listen, educate and build a relationship.
"We live in a world where there's a lot of information on the Internet about surgical procedures and you can just Google anything," says Dr. Marks. "But I really feel that my perspective can truly help patients understand what options exist for them. I want to spend as much time as the patient needs to feel comfortable with me, so that we can formulate a plan together. No two people are alike, so you really need to take the time and listen in order to fully individualize their treatment."
Plastic Surgery can be the most encompassing type of Surgery possible but the depth of Dr. Marks' background enables Signature Plastic & Reconstructive Surgery to deliver exciting possibilities for patients such as breast augmentations, breast lifts, breast reductions, breast reconstruction after cancer, tummy tucks, liposuction, face lifts, eyelid surgery, arm lifts, brow lifts and more. She also offers a wide range of Non-Surgical procedures including Injectables, Microneedling with PRP (Platelet Rich Plasma), Aesthetic Facials, Facial Peels, and More. She also carries Obagi(R) skin care products.
Accessibility is also a highlight of the Signature Plastic & Reconstructive Surgery approach. After each surgery, Dr. Marks provides her personal cell phone number to patients, in which they can contact her 24 hours a day, 7 days a week to relay any problems, questions, or concerns.
"I feel that if a patient is trusting me with their care, being available to them is the least I can do," says Dr. Marks.
In addition, Dr. Marks is affiliated with Palm Beach Gardens Medical Center, Jupiter Medical Center and Jupiter Outpatient Surgery Center.
To schedule a complimentary initial consultation with Dr. Melissa Marks at Signature Plastic & Reconstructive Surgery, call 561.775.1212, email info(at)drmelissamarks(dot)com or visit the practice's website at http://www.drmelissamarks.com.
About Signature Plastic & Reconstructive Surgery
With a patient-focused approach to Plastic Surgery, Signature Plastic & Reconstructive Surgery is changing the way people in the West Palm Beach area look on the outside and feel on the inside. Headed by Dr. Melissa Marks, the practice provides only the highest quality of personalized care and the most advanced techniques to restore one's natural beauty. Men and Women can dramatically benefit from the surgical procedures offered for the breast, body, face, neck, hand, arm and skin. Start with a free consultation with Dr. Marks today in her brand new office in Palm Beach Gardens to discuss your goals and learn why you deserve The Signature Treatment.