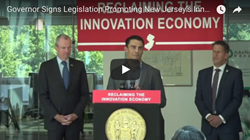 WHITEHOUSE STATION, N.J. (PRWEB) August 23, 2018
Visikol began its journey in late 2012 as an idea at Rutgers University by Visikol Co-Founder Dr. Thomas Villani. Through support from advisors, mentors, the Rutgers Technology Transfer team and Foundation Venture Capital Group, Visikol Inc was launched a few years later.
Visikol's path from an idea to a successful biotech company has been a circuitous path but was due in large part to the resources at Rutgers University, New Jersey-based investors and an ecosystem in New Jersey of mentors, advisors and experts. Since taking office, Governor Phil Murphy has been a strong advocate for building the New Jersey science, innovation and technology ecosystem by bringing together academic institutions and making it easier to bring an idea to life in the state. This focus is in response to many technology companies leaving the state or startups pursuing other states to grow their businesses in such as New York, Massachusetts or California.
To support this effort, Governor Murphy recently announced the launch of the ResearchwithNJ.com initiative through which anyone can easily access the state's academic experts. The centralization of this information in one database allows anyone to quickly find a technical expert in almost any field that can help them bring their idea to life. This database includes researchers and scientists from Princeton University, New Jersey Institute of Technology (NJIT), Stevens Institute of Technology, Rutgers University and Rowan University (Montclair State University will be joining the list soon).
To further these efforts, on August 15th, Governor Murphy held a press conference at the Commercialization Center for Innovative Technologies in North Brunswick, NJ to announce the re-instatement of the state's Commission on Science, Innovation and Technology. The commission will be reinstated and will be provided with $1 million in funding to launch initiatives aimed at re-establishing innovation in NJ.
As the CEO of a company which began as an idea at Rutgers University and has matured into a profitable biotech business, Dr. Michael Johnson from Visikol was asked to speak at this press conference which was held a few hundred yards away from where the idea for Visikol was conceived.
After an introduction from James Barrood, President of the NJ Tech Council, The Governor started the press conference by stressing the importance of fostering innovative and scientific companies and his major campaign goal of re-establishing New Jersey as the leading state for up and coming innovative companies like Visikol. The Governor then introduced Dr. Michael Johnson who spoke on behalf of Visikol and described their journey from Rutgers to maturing an innovative business within the state.
Dr. Johnson began his speech by describing Visikol and their mission to accelerate drug discovery through the use of the machine learning, computer vision and advanced drug discovery tools that it has developed. Dr. Johnson explained that "there is currently a myth in the entrepreneurial community wherein a founder pulls themselves up by the bootstraps without the help of anyone else and wills their idea into existence." However, it was described how this narrative is truly a myth and that launching a company is incredibly challenging and requires an ecosystem of experts, investors and resources. Visikol was only able to transform form an idea to a profitable and successful company through the help of New Jersey-based investors, the NJ EDA, Rutgers University, Foundation Venture Capital Group and a large group of advisors and mentors.
For these reasons, Dr. Johnson expressed a sincere interest in the Governor's efforts to launch ResearchwithNJ.com and to re-establish the Commission on Science, Innovation and Technology. Dr. Johnson explained how founders of a company seldom have all of the answers and by bringing together all of the experts in the state in one database it allows founders to much more easily find an expert to assist them with their endeavor.
Click here for full press conference video.
About Visikol
Visikol is focused on accelerating drug discovery through quantitative histopathology and using their patented Visikol HISTO tissue clearing technology to transform tissues into three dimensional data sets that can be mined for actionable insights. When paired with fluorescent labeling and 3D microscopy, Visikol® HISTO™ allows tissues such as 3D cell culture models or whole tissues to be imaged in their entirety in 3D. Visikol has leveraged this technology to launch 3Screen™ which is a high-throughput 3D imaging platform capable of transforming tissues into 3D data sets and answering complex biological questions. The addition of 3D histological information to the drug discovery workflow allows for complex features such as vasculature networks to be quantitatively analyzed in 3D or for the penetration kinetics of antibodies into tumor models to be understood. The company currently offers 3Screen™ as a service to pharmaceutical/biotech companies and is continually focused on improving the platform as well as building out a suite of standardized assays. In addition to this service offering, Visikol also sells various tissue clearing reagents and kits for academic researchers that are interested in adopting the approach into their own workflows. For more information about Visikol® or 3Screen™, please visit our website at visikol.com.
For additional assistance, journalists, investors and analysts may contact:
Dr. Michael Johnson
Chief Executive Officer
info(at)visikol.com
1-800-615-8474