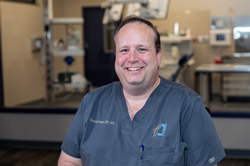 An hour and a half after coming in, I was able to leave with a full arch of lower teeth!
Fargo, ND (PRWEB) February 24, 2020
Respected oral surgeon, Dr. Michael Noffze, improves dental implant candidacy in Fargo, ND through an advanced bone grafting technique using the Straumann® bone ring. This technique combines a ring of bone material with dental implants, allowing patients to receive bone grafting treatment and dental implant placement all in one day. Dr. Noffze is the only doctor in North Dakota certified to provide this revolutionary treatment.
When individuals are missing teeth, the lack of stimulation from a tooth root puts them at high risk of bone loss in the jaw. The longer a tooth is missing, the more the bone resorbs. Patients with insufficient bone mass are often ineligible for dental implants. Dr. Noffze can restore a patient's bone structure and eligibility for dental implants through Straumann's advanced bone grafting techniques.
After placing a bone ring in the area of bone loss, Dr. Noffze can immediately secure a dental implant into the ring. Straumann bone ring bone grafting technology drastically cuts down the time of the treatment, as well as decreases both cost and discomfort for the patient. Once treatment is complete, patients receive the benefits of a fully restored jaw, both in aesthetics and function. When patients pair bone grafting and dental implant treatment, they can experience more strength when chewing and more confidence when speaking. Additionally, they often will lose the sunken-in appearance of the face and have a fully restored, beautiful smile.
"An hour and a half after coming in, I was able to leave with a full arch of lower teeth," says Bill, a patient of Dr. Noffze's. "You don't have to worry about what you eat or how you care for them other than how you would with another set of teeth. This is one of the best medical decisions I've made."
Those looking for dental implants and bone grafting in Fargo, ND or surrounding areas are encouraged to connect with Dr. Noffze for a consultation. To schedule an appointment, call 701-232-9565, or visit http://www.tfaosc.com for more information.
About the Oral Surgeon
The Facial and Oral Surgery Center is a leading oral and maxillofacial surgery practice in Fargo, ND. Dr. Michael Noffze is a board-certified oral and maxillofacial surgeon who received his medical degree and certificate in preliminary general surgery from the Mayo Clinic College of Medicine. Dr. Noffze is the director of one of the largest dental study clubs in the United States, was recognized by Cambridge Who's Who as the 2010 Professional of the Year for Dental Surgery, and continually speaks internationally on the topic of dental implants. Dr. Noffze is specially trained to treat medically compromised patients and his advanced and unique digital workflow streamlines complex dental implant cases. To learn more about The Facial and Oral Surgery Center and the advanced services that Dr. Noffze provides, call 701-232-9565 or visit the website at http://www.tfaosc.com.