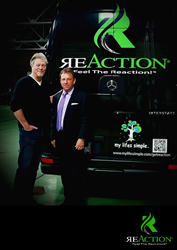 I feel that everyone should include a quality CBD product like ReAction in their daily wellness protocol.
MOORESVILLE, N.C. (PRWEB) May 11, 2021
ReAction®, which produces a proprietary line of quality Full Spectrum CBD products, has just announced that Dr. Mike Binder has joined the ReAction®/My Lifes Simple™ team and will serve as the head of their Medical Advisory Board.
Dr. Binder is the founder of the Binder Integrated Health Center in North Carolina. He is an expert in the field of Functional Medicine whose passion for health and wellness initially focused on providing restorative treatment to individuals suffering from chronic illness, chronic pain, and diseases of the 21st century like Diabetes, Auto Immune conditions, Dementia and Alzheimer's.
During his twenty five year career, he has completed extensive training in functional endocrinology and has spent an exceptional amount of time focusing on chronic metabolic disorders specializing in functional neurology, chronic pain management, and clinical nutrition, allowing him to treat his patients with a Functional Medicine whole-system, cause-based system versus the treatment of symptoms with pharmaceuticals.
In the past decade, Dr. Binder has become a global leader in the fields of Diabetes reversal, Hypothyroid and Auto Immune Disorder reversal, and Alzheimer's reversal, and has been credited with thousands of cases of reversed diabetes.
Dr. Binder is also a nationally known Author having written 3 books, 'Ending Alzheimer's Forever,' 'Cracking the Diabetic Code,' and 'Cracking the Thyroid Code.' "I have long believed in the power of functional medicine and a whole systems approach to treatment and I feel that everyone should include a quality CBD product like ReAction® in their daily protocol," Dr. Binder says.
In addition to his medical endeavors Mike is also a superstar in the world of Direct Sales and for years was a top earner and global leader endorsing a hugely successful line of liquid vitamin products. He continues to be approached frequently but has been extremely selective about joining other direct sales companies. When asked why he chose to partner with ReAction® and My Lifes Simple™ he answered, "It's simple. I believe in the ReAction® full spectrum products. I believe in the company and the leadership. And, the Comp Plan is THE most generous plan I have ever seen. I'm excited to be a part of ReAction® and am looking forward to building something amazing as this company continues to grow."
Launched in 2020, My Lifes Simple™ utilizes a Direct Sales model to provide the power of business ownership to Distributors of the ReAction® Full Spectrum CBD product line.
If you'd like to know more about ReAction® go to: http://www.feelthereaction.com
For more information about becoming a distributor go to: http://www.mylifessimple.com