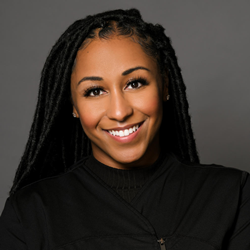 I am excited to join this amazing team and looking forward to helping my new patients feel comfortable, safe and educated about their dental decisions, says Dr. Mikenah Joy Vega
MISSOURI CITY, Texas (PRWEB) October 06, 2020
Smile Design Studios is excited to welcome Dr. Mikenah Joy Vega to their well-respected dental clinic. This modern, state-of-the-art facility is led by Dr. Simone Ellis and is located at 9303 Highway 6, Suite 300 in Missouri City, TX. Smile Design Studios provides exceptional, cutting-edge care for patients of all ages in a comfortable, relaxing environment. This premier Houston area dental practice can handle all of your preventive and routine dental care needs, as well as specialized treatments.
Dr. Mikenah Joy Vega, also known as Dr. Joy, is originally from Boston, Massachusetts. Dr. Joy earned her dental degree from Tufts University School of Dental Medicine and relocated to Houston, Texas in 2018. Her passion for dentistry comes from a deep understanding of how a great smile can transform your life and help you reach your full potential. Dr. Mikenah Joy Vega is always happy to assist patients in achieving their oral health goals, no matter what their dental state may be in. She is a member of the American Dental Association (ADA), National Dental Association (NDA) and American Association of Cosmetic Dentistry (AACD). Being that the field of dentistry is ever-evolving, she devotes countless hours to improving her dentistry via continuing education courses.
"I am excited to join this amazing team and looking forward to helping my new patients feel comfortable, safe and educated about their dental decisions," says Dr. Mikenah Joy Vega
More about Smile Design Studios:
Smile Design Studios offers an expansive menu of options and many advanced treatments to attain healthy, balanced and beautiful smiles. They provide patients with top-quality general dentistry, restorative dentistry and cosmetic dentistry services, such as teeth whitening, veneers, Invisalign and so much more. The dental professionals at Smile Design Studios stop at nothing less than excellence and offer superior, patient-centered care, using the best that modern dentistry has to offer. At Smile Design Studios, patients can expect a rewarding experience at every step. The dental clinic also provides flexible scheduling options and accepts most dental insurance plans.
For more information about Smile Design Studios Dentistry in Missouri City, TX, or to schedule an appointment, please visit http://www.sdshouston.com or call (281)-969-7388.