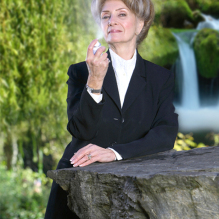 GRANTS PASS, Ore. (PRWEB) June 20, 2019
Date aired: June 17th, 2019
Guest: Dr. Neil Theise, Professor of Pathology and Medicine, New York City
Dr. Neil Theise is a diagnostic liver pathologist and adult stem cell researcher practicing in New York City and teaching at New York University.
Dr. Theise is also playing a major ongoing role in the discovery of a "highway of moving fluid" within the body, flowing from organ to organ, which some are calling a new organ, the interstitium. With endoscopists and gastroenterology experts Petros Benias and David Carr-Locke, Theise realized that the interstitium acts as a shock absorber for other parts of the body and a conduit for fluids to enter the lymphatic system. Theise realized that stem cells in the liver, for example, could actually travel to the bone marrow or other organs. Twenty years ago, this was thought impossible.
Speaking with Sharon Kleyne, host of the internationally syndicated weekly talk radio program, The Sharon Kleyne Hour Water Life Science®/Nature's Pharma®, The Power of Water® & Your Health sponsored by Nature's Tears® EyeMist® and Nature's Mist® Face of the Water® on VoiceAmerica, Dr. Theise compares his work to that of a detective. "In pathology," Theise says, "you're being a sleuth. It's rather like doing crossword puzzles with human tissue. You're taking evidence and trying to organize it into a story." Theise goes on to explain that preconceived notions are antithetical to his research. "One often sees things in a biopsy that one is not expecting to see."
Applicability of research on the interstitium is still evolving, yet it is clear that the presence of the interstitium confirms what Kleyne, founder and research director of Bio Logic Aqua® Research Water Life Science® has been teaching for more than two decades: in the body, water is the life-giving primal source. The interstitium seems also poised to give up its secrets regarding transmissions of diseases such as cancer from one part of the body to another. This knowledge will lead to more effective protocols of prevention.
Dr. Theise encourages new research and cautions against premature excitement. Striking a tone of equanimity, he shares his favorite medical joke. "Interns know everything but can do nothing," says Theise; "surgeons can do everything yet know nothing; a pathologist knows everything and can do everything, just too late." Kleyne asks if Theise's knees ever shake when he makes a surprising discovery in his research. Confessing that hers do sometimes in her research, Kleyne understood when Theise admits that he tries hard to stay calm. "No shaking," Theise says.
Water Life Science® creator Kleyne sees that the discovery and study of the interstitium is bound to shed more light on the origin of ocular disease and transmission of disease from one part of the eye to another part. Kleyne believes that keeping the eyes supplemented with Nature's Tears® EyeMist®, a 100 percent Trade Secret tissue culture grade water, will prevent dry eye and blindness.
*
If you would like to listen to the talk radio program featuring the conversation between Dr. Neil Theise, liver pathologist at NYU and Power of Water® talk radio host and Water Life Science® lifestyle and dry eye educator Sharon Kleyne about pathology, research, the interstitium, water, evaporation, the health Olympics, dry eye, stem cell research, water education and Water Life Science®, follow this link: https://www.voiceamerica.com/episode/115677/the-interstitium-as-a-new-human-organ
If you would like to learn more about the most unique product on the global dry eye market and its application, please visit http://www.naturestears.com