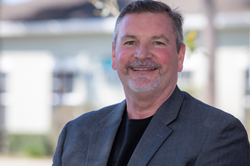 I can't say enough good things about Dr. Brand and I'll recommend him until the cows come home.
OCALA, Fla. (PRWEB) March 05, 2020
Patients in need of new teeth after tooth extraction or full mouth tooth loss can receive same-day dental implants from Dr. Nickelice Brand of Dental Implants of Ocala. Same-day dental implants allow patients with an entire mouth of missing or failing teeth to get an entirely new smile in just one day. This treatment utilizes advanced technology and Dr. Brand's unique experience and skills to provide life changing treatment for those with severe tooth loss.
"I no longer have to worry about teeth breaking anymore," says Jimmy, a patient who received same-day dental implants from Dr. Brand. "The best part of my treatment was that it was done that morning. I've dealt with teeth problems my whole life, and now it's all done. It makes me feel happy and emotional. I can't say enough good things about Dr. Brand and I'll recommend him until the cows come home."
With the same-day dental implant procedure, Dr. Brand can provide a patient with every step of the tooth replacement process in just one day. Those who need to have all their teeth replaced can be a candidate for this procedure. On the day of surgery, Dr. Brand can provide tooth extraction for remaining teeth, place dental implants into the jaw, and restore the mouth with a lifelike temporary prosthesis. Patients never have to go another day without new teeth when they opt for same-day dental implants.
A dental implant provides a permanent tooth replacement that mimics the look and function of real teeth. When placed into the jawbone, the implant fuses to the bone and firmly holds a crown or bridge prosthesis in place. With dental implants, patients are able to enjoy the benefits of an attractive, functional smile and can eat, speak and smile confidently. Full mouth dental implants restore an entire arch of teeth, top or bottom, with brand new teeth that look and feel natural.
For patients who experience dental anxiety or who are worried about discomfort, Dr. Brand offers IV sedation. This level of sedation puts patients into a deeply relaxed state, allowing them to forget their fears and anxiety, and can prevent them from feeling pain during surgery.
Those interested in same-day dental implants in Ocala, FL are encouraged to contact Dental Implants of Ocala for a personalized consultation. Appointments can be made by calling 352-653-2500 or visiting http://www.dentalimplantsofocala.com.
About the Dentist
Dental Implants of Ocala offers specialized and all-inclusive dental implant treatment to patients of Marion County, including Ocala, FL and beyond. Dr. Nickelice Brand, the practice's leading implant dentist, has over 25 years of experience and focuses solely on providing innovative implant solutions for his patients. Placing over 1000 implants a year, Dr. Brand has retained a 98 percent implant success rate and an even higher level of patient satisfaction. The team at Dental Implants of Ocala remains up to date on implant dentistry's most innovative and unique technologies, including bone morphogenetic protein and CeraRoot ceramic dental implants, to ensure the highest standard of care and most predictable treatment outcomes. To learn more about Dental Implants of Ocala and their innovative implant care, visit http://www.dentalimplantsofocala.com or call 352-653-2500.