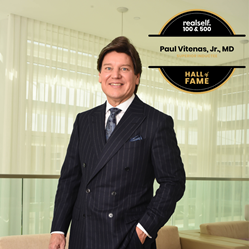 HOUSTON (PRWEB) February 22, 2019
Vitenas Cosmetic Surgery proudly announces that its own, Paul Vitenas MD, FACS, is now part of the RealSelf Hall of Fame. Marking the first year of the award, only 1,000 of the 20,000 participating physicians were inducted into the 2019 Hall of Fame. Over the eight years of RealSelf rankings, Dr. Vitenas has earned multiple titles on the site, including being a part of the RealSelf 500 and the RealSelf 100.
RealSelf is an online forum for everything aesthetic, ranging from facial plastic surgery to cosmetic dentistry. The free site offers detailed procedure information, before and after photographs, physician reviews and an extensive Q&A section. The questions are answered on a voluntary basis by board-certified physicians, experienced in cosmetic procedures. RealSelf has over 8 million unique visitors every month.
To be invited into the RealSelf Hall of Fame, a physician must have previously been named in the RealSelf 500 or RealSelf 100, carrying a high patient rating. Above all, Hall of Fame physicians must be dedicated to patient education, consistently providing credible, valuable insights in response to consumer questions about elective cosmetic treatments. The top doctors are judged in three categories: earning patient reviews, answering consumer questions and sharing before/after treatment photos. In order to be recognized in any given year, doctors must maintain the distinction of Top Doctor or Top Contributor and uphold an average rating above four stars.
Tom Seery, Founder and CEO of RealSelf, explains that these Hall of Fame doctors play a vital role in helping consumers make informed and confident choices about aesthetic treatments. "The RealSelf Hall of Fame honors the achievements of board-certified aesthetic doctors who consistently put the consumer first." Seery then continues, "It's my pleasure to recognize this elite group of doctors for their significant contributions on RealSelf and their high standards in patient satisfaction."
As a Superior Inductee, Dr. Vitenas' continued participation puts him in the top 5% of RealSelf physicians. To date, he has answered more than 2,100 consumer questions and holds a 4.7-star rating from over 140 patient reviews. His goal is to help consumers make educated decisions with elective procedures. He explains, "Plastic surgery is a personal and intimate experience." Dr. Vitenas goes on to say, "The relationship begins with (doctors) listening to our patients to determine their goals and expectations."
ABOUT VITENAS COSMETIC SURGERY
Founded in 1991, Vitenas Cosmetic Surgery offers a wide variety of surgical and noninvasive aesthetic procedures. Located on Richmond Avenue, close to the Houston Galleria and River Oaks, Vitenas Cosmetic Surgery is a stand-alone facility with dedicated, free parking. Mirror Mirror Beauty Boutique, offering noninvasive procedures, is housed on the first floor, while Dr. Vitenas' office and patient treatment rooms are located on the second floor. Vitenas Cosmetic Surgery is the home of the Houston Surgical Center, Dr. Vitenas' private surgical suites. With state-of-the-art recovery bays, all outpatient patients are carefully monitored for safety and comfort before leaving for home. Additionally, patients looking for extended help have the option of an overnight recovery suite, offering private nursing in a home-like space.
More about the RealSelf Hall of Fame and the full list of recipients can be found on their website. If you are interested in finding out more about Vitenas Cosmetic Surgery, call our office at 281.484.0088. A patient coordinator will answer your questions and assist in setting up a complimentary consultation with Dr. Vitenas.