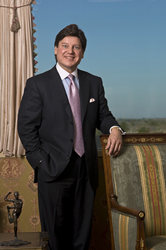 "Dr. Vitenas is AMAZING!" wrote one satisfied patient. "I was very confident after my consultation that I would get my desired goal with him as my surgeon, and I definitely did! I'm so happy with the results!"
HOUSTON (PRWEB) May 27, 2021
Vitenas Cosmetic Surgery is proud to announce that their own Dr. Vitenas, M.D., F.A. C. S., has been selected as a Castle Connolly Top Doctor for 2021. The award is a physician-led elite recognition and adds to a long list of previous peer-led recognition and awards that Dr. Vitenas has received.
Castle Connolly has served as the official source of the nation's top doctors for over 25 years. The Castle Connolly Top Doctor distinction is an exclusive elite recognition in which physicians are nominated by their peers based on an extensive list of criteria. Castle Connolly's physician-led research team then screens every nomination to ensure their Top Doctors meet their high standards.
"It's an honor to have been selected again as a Castle Connolly Top Doctor", said Dr. Vitenas. "Plastic surgery is an art form and I focus on delivering a natural result." he continued. "And there have been many artists throughout the ages, but very few Picassos and Monets. What is it that makes their work so enduring? It is the natural result that they produced. The true beauty in the human form is a natural look and that is what you can expect at Vitenas Cosmetic Surgery."
In addition to the 2021 Top Doctor recognition, Dr. Vitenas has received a long list of accolades including being named a Real Self Top Doctor for Breast Augmentation, membership among the elite Texas Super Doctors, Castle Connolly Top Doctor 2019, and 2015 Best of Med Aesthetics. In addition, Dr. Vitenas is a board-certified physician with licensure to practice in Texas, Louisiana and Florida and is a member of the American Society of Plastic Surgeons.
The work of Dr. Vitenas and his team have amassed thousands of five-star online reviews with patients who share their experience with enthusiasm.
"Dr. Vitenas is AMAZING!" wrote one satisfied patient. "I was very confident after my consultation that I would get my desired goal with him as my surgeon, and I definitely did! I'm so happy with the results!"
Dr. Vitenas believes in the power of real-world results and urges anyone interested in aesthetic surgery to visit his practice's website at http://www.drvitenas.com to view the results that his practice has achieved for patients over the years.
About Vitenas Cosmetic Surgery
At Vitenas Cosmetic Surgery, our sole focus is dedicated to the fine art of plastic surgery. We strive to create beautiful, proportionate, natural-looking aesthetic results for each patient who comes into our office. Our practice professionals regularly receive awards and recognition in Top Doctor, Real Self, Texas Super Doctors and more. To learn more about our work, we recommend you begin by viewing our extensive before and after library located on our website, http://www.drvitenas.com.