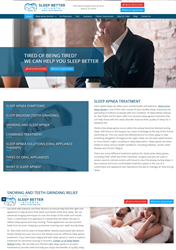 The Sleep Better Atlanta team is excited to offer treatment options to help those with sleep disorders, such as obstructive sleep apnea, improve their quality of sleep. Our treatments are individualized, effective and affordable so our patients can obtain the relief they deserve, says Dr. Ravi Patel
BUFORD, Ga. (PRWEB) November 07, 2019
Dr. Ravi Patel is proud to announce the opening of Sleep Better Atlanta. This new practice is located at 4700 Nelson Brogdon Blvd NE #210 in Buford, GA, and is associated with Buford Family Dental. Chronic snoring, sleep apnea and bruxism all can negatively impact sleep and health. Sleep Better Atlanta provides effective treatments to alleviate symptoms, offering a variety of different oral appliance options for patients. These dental specialists offer services and information to help patients improve their health and quality of sleep. Obstructive sleep apnea is the most common type of sleep apnea and is characterized by repeated episodes of complete or partial obstructions of the upper airway during sleep. Sleep Better Atlanta offers sleep apnea solutions, including oral appliance therapy, that can reposition the jaw to keep the airway open and unobstructed.
"The Sleep Better Atlanta team is excited to offer non-invasive treatment options to help many individuals with sleep disorders, such as obstructive sleep apnea, improve their quality of sleep for a healthier life. Our treatment options are individualized, effective and affordable so our patients can obtain the relief they deserve," says Dr. Ravi Patel
Sleep Better Atlanta customizes oral appliance therapy options to treat sleep apnea, snoring and bruxism (teeth grinding). After completing a thorough examination, Dr. Patel will recommend an option that works best for each patient's mouth shape and level of obstruction. At Sleep Better Atlanta, many forms of insurance are accepted, including Medicare. If you have been diagnosed with sleep apnea or want to explore treatment for excessive snoring or bruxism, schedule a consultation with the professionals at Sleep Better Atlanta.
More about Dr. Ravi Patel:
Dr. Ravi Patel was born in Georgia and finished his undergraduate studies at Indiana University before earning his master's degree at Purdue University. Dr. Patel completed his doctorate from Nova Southeastern University's College of Dental Medicine. He is passionate about providing high-quality, comfortable dentistry and sleep solutions for his patients.
To find out more information about Sleep Better Atlanta or to schedule a consultation with Dr. Ravi Patel please visit http://www.sleepbetteratlanta.com or call (470) 412-5455.