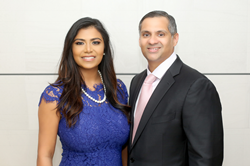 HOUSTON (PRWEB) August 14, 2020
Dr. Ravi Somayazula and Body By Ravi Plastic Surgery & Aesthetics is pleased to announce that they now have over 250 Google reviews, plus many five-star ratings on Yelp, RealSelf, and Facebook. Based on Dr. Ravi's outstanding client feedback, extensive academic qualifications, leadership positions, board certifications, hospital affiliations, and peer-nominations, the highly-distinguished surgeon holds numerous coveted awards, including Texas Super Doctor 2019, Castle Connelly's Top Doctors 2019, America's Best Physicians 2018, and Houston's Top Doctors 2019.
Highly-esteemed, board-certified Houston plastic surgeon, Dr. Ravi, is the founder of Body By Ravi Plastic Surgery & Aesthetics. Dr. Ravi prioritizes the safety of each patient and builds a patient-doctor relationship established on trust. He is one of the most sought after plastic surgeons because of his phenomenal results. The exceptional plastic surgeon specializes in breast augmentation with implants, mommy makeover transformations, Tummy Tucks and BodyTite PRO minimally-invasive skin tightening treatments for men and women by InMode.
Body by Ravi Plastic Surgery and Aesthetics in Houston also features Dr. Swapna Gopathi, MD, specializing in innovative, non-invasive treatments for anti-aging treatments, facial rejuvenation, physician-quality skincare, injectables, fillers, and micro-needling.
Dr. Ravi shares, "Communication is key to developing a good relationship with any physician, and I am always available to answer questions and explain things in detail." Dr. Ravi strives to ensure that each patient is comfortable and well cared for during each visit, beginning with the initial consultation and continuing throughout their entire plastic surgery experience.
First-time patients can expect their initial consultation to last about an hour or more. Dr. Ravi carefully listens to each patient's goals and examines the patient's problem areas before recommending a customized treatment. Dr. Ravi's many Google reviews feature outstanding results and consistent patient satisfaction.
Patient Reviews:
Tummy Tuck, August 5, 2020: "I'm 6 weeks post-op and love how low my scar is on my belly. My button is cute and small. He is a body genius and artist. Best surgeon EVER! ...My sister in law said my stomach looks like hers did at 16. I've had six kids can't tell now because Dr. Ravi is fantastic!"
Mommy Makeover, June 19, 2020: "Where do I begin?! This office and its staff are absolutely amazing!!... As a mom of 3 toddlers, who has the time to work out, etc., and Dr. Ravi has given me the body of my 21-year-old self again! I've worn clothes that I never thought I'd wear again!"
Dr. Ravi's YouTube channel has over 1.8 million views, where he shows behind the scenes shots of the operating room, patient reviews and educational video about aesthetics. His Google reviews shows how he creates exquisite transformations by sculpting, refining, and restoring the body to its most appealing shape.
Call 281.242.1061 or visit bodybyravi.com to learn about procedure options or request a consultation with Dr. Ravi at Body by Ravi Plastic Surgery and Aesthetics in Houston, Texas.