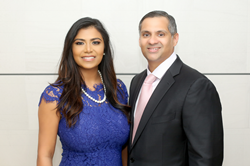 HOUSTON (PRWEB) October 30, 2020
Dr. Ravi Somayazula's award-winning, Houston-based practice Body By Ravi Plastic Surgery & Aesthetics is pleased to be adding the breakthrough treatment EVOLVE body contouring to its services. EVOLVE is an FDA-cleared procedure that helps reshape areas of the body. It is a non-surgical way to reduce stubborn areas of fat, tighten skin and improve muscle definition.
The EVOLVE treatment focuses on problem areas like the abdomen, thighs, arms, buttocks and back. While liposuction accounts for over 250,000 plastic surgery procedures annually in the United States, EVOLVE body sculpting is a new, non-invasive alternative. This innovative body contouring approach harnesses radiofrequency energy to sculpt the body while improving the skin. EVOLVE body contouring can stimulate collagen production while simultaneously reducing fat and encouraging muscle stimulation.
Dr. Ravi Somayazula is adding the EVOLVE body contouring treatment as a non-surgical option for his clientele. Dr. Ravi's dedication to his patients' aesthetic needs translates to specialization in a wide variety of procedures and technologies. His vast experience with every kind of plastic surgery from breast augmentation and liposuction to fat transfers and body lifts places Dr. Ravi as one of the top cosmetic surgery experts in Texas. With his primary objectives being his patients' comfort and the use of cutting-edge technology, adopting EVOLVE body contouring is a natural progression for Dr. Ravi's practice.
Regarding the introduction of the new procedure to his practice, Dr. Ravi Somayazula has expressed his enthusiasm for this innovative technology:
"We are really excited to bring EVOLVE to our practice, it is truly a game-changer for patients. More than ever, people are looking for non-invasive body contouring treatments that work. EVOLVE helps us target three separate but complementary issues by helping with fat reduction, skin tightening and muscle building. Not everyone is ready for surgery or is a surgical candidate, and EVOLVE is perfect for them!"
In terms of the procedure's advantages over other body contouring solutions, Dr. Ravi states:
"In comparison to other non-invasive body contouring treatments on the market, EVOLVE is definitely much more technologically advanced. With built-in Artificial Intelligence to monitor body temperatures several times a second, this is the safest hands-free procedure currently. Plus there is absolutely no downtime and there is no post-procedural pain."
The founder of Body By Ravi Plastic Surgery & Aesthetics in Houston, TX, Dr. Ravi is a board-certified plastic surgeon bringing over a decade of experience to his patients. Dr. Ravi's awards and distinctions include membership in the American Society of Plastic Surgeons, being selected by Super Doctors 2019 in Texas for excellence in plastic surgery and membership in the Texas Society of Plastic Surgeons, among others.
To find more information about Dr. Ravi's services, call 281-242-1061. Alternatively, for a virtual consultation, fill out the contact form on his website. Call with any questions you may have about EVOLVE body contouring and the office staff will be happy to help you.