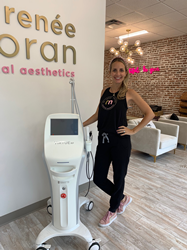 "I have seen the benefits of traditional RF Microneedling, but the available features of our new non-invasive VirtueRF allows us to treat a wider variety of skin concerns, more comfortably and with better outcomes," says Dr. Moran
NEWTON, Mass. (PRWEB) August 21, 2020
Dr. Renée Moran Medical Aesthetics is one of the first medical spas in the greater Boston area and one of the first 50 in the country to offer VirtueRF Microneedling, the world's first RF Microneedling platform. Radiofrequency (RF) Microneedling is one of the most in demand, non-invasive treatments that target signs of aging as well as tightening skin. The procedure stimulates the natural production of collagen to reduce fine lines and wrinkles. Results can be seen in as little as one visit and improve over time.
VirtueRF offers versatile treatments to address patients' unique concerns and achieve optimal outcomes. A comfortable and sophisticated aesthetic experience, it doesn't require social down-time as more invasive treatments often do. Every treatment is completed with an exclusive soothing Microcurrent Dual Face Mask – a mask system created by Dr. Franz skincare that was recognized as a top innovation in 2020 by New Beauty.
Dr Renée Moran is a Board-Certified Anesthesiologist and Interventional Pain Medicine Physician whose passion for facial aesthetics and natural eye for beauty led her to open her own medical spa at 97 Union Street in Newton Centre in 2019. She is a mentor for countless trainees and an advocate for women's advancement opportunities as well as individual health and well-being.
"I have seen the benefits of traditional RF Microneedling, but the available features of our new non-invasive VirtueRF allows us to treat a wider variety of skin concerns comfortably and with optimized outcomes," says Dr. Moran. "It was a priority to partner with Cartessa Aesthetics and add this newest technology because the VirtueRF is the only RF Microneedling platform on the market and we pride ourselves on offering exclusive and premium treatments to our patients."
VirtueRF is available to practices exclusively from Cartessa. Founded to help support practitioners like Dr. Moran, Cartessa operates independently from any one manufacturer, hand-selecting technology from around the globe that offers the best combination of results and experience for patients, like the VirtueRF, by RF Microneedling leading manufacturer, ShenB. While most see immediate results, it is recommended that patients undergo three treatments for optimal results. Patients can now schedule their VirtueRF treatments here, by emailing info@drmoran.co or by calling 617.855.0038.
About Dr Renée Moran Medical Aesthetics
Since opening in May 2019, Dr. Renée Moran has raised the bar for the medical aesthetics community in the Boston area with her unique experience, passion, and talent for helping her clients look and feel their best. Dr. Moran is a highly-trained anesthesiologist and pain medicine physician who spent years treating patients with Botox for migraine headaches. Her passion for facial aesthetics and her natural eye for beauty led her to open her own medical spa at 97 Union Street in Newton Centre, Mass. Dr. Moran is one of the first in the Boston area to introduce CoolTone, the next phase of the popular CoolSculpting craze that goes a step beyond fat-burning to tone and tighten muscles. Approved by the FDA in June 2019, one CoolTone treatment takes 20 minutes and has the effects of doing 20,000 sit ups for your abs or 20,000 squats for your buttocks. Treatments and procedures offered at Dr. Renée Moran Medical Aesthetics include: Botox, CoolSculpting, CoolTone, Dermal Fillers, Dermaplaning, Dysport, HydraFacials, IV Therapy, Kybella, Medical-Grade Chemical Peels, Medical-Grade Skin Care Products, and Microneedling with RF.
Follow us at: http://www.drmoran.co, Instagram, Facebook and Twitter.
About Cartessa Aesthetics
Cartessa Aesthetics, LLC sources and markets leading aesthetic medical devices for distribution to dermatologists, plastic surgeons, cosmetic physicians and medical spas. Because Cartessa is not tethered to any one manufacturer, Cartessa selects, amongst the most cutting-edge technologies, those that offer clinically proven efficacy, patient safety, and the best possible investment for patients and professionals. For more information visit: http://www.cartessaaesthetics.com