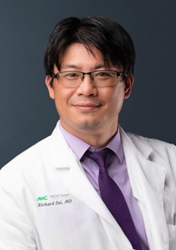 GREAT FALLS, Mont. (PRWEB) October 05, 2020
Dr. Richard Lai, M.D., has joined the Rheumatology team at the Montana Arthritis Center (MAC). Starting on November 16, 2020, Dr. Lai will begin seeing rheumatology patients only at the MAC, his new permanent practice home. With two Montana locations, including Great Falls and Billings, the MAC provides comprehensive rheumatic services through highly trained medical staff in a personal manner that accommodates each patients' busy life with unmatched patient-centered care.
Since 2015, Dr. Lai has been the central rheumatologist in Great Falls, Montana and attributes his decision to join the MAC to shared patient-care values. "The key to providing meaningful care within rheumatology is the unique combination of maintaining long-term relationships between the same doctor and the patient and also incorporating patient education as a part of the overarching treatment plan. Both of these important reasons are why I chose to practice at the Montana Arthritis Center for the rest of my medical career," said Dr. Lai.
Dr. Lai is excited to continue to provide rheumatology care in the Great Falls area to all his existing patients and is also accepting new patients and physician referrals. For more information on how existing patients can continue to be seen by Dr. Lai by transferring their rheumatology care to the MAC, or to schedule an appointment, call (406) 350-4600 or visit MontanaArthritis.com
# # #
About Dr. Richard Lai, M.D.:
Dr. Lai earned his medical degree from the American University of Integrative Sciences. He then spent one-year post-graduate in clinical research at Johns Hopkins University before he completed his residency in internal medicine at Franklin Square Medical Center in Baltimore. Dr. Lai then went on to complete his fellowship in rheumatology at Washington Hospital Center in Washington, DC. Dr. Lai is known for his practical evidence-based medicine approach.
Dr. Lai's special interests are in various connective tissue diseases such as systemic lupus erythromatosus, Sjogren's syndrome and scleroderma, inflammatory joint diseases such as rheumatoid arthritis, ankylosing spondylitis, crystalline induced arthritis such as gout or pseudoout, and all other rheumatologic conditions such as vasculitis, myositis and sarcoidosis, etc. Dr. Lai has participated in research assignments, abstracts and publications, and non-research-related academic activities. Outside of his medical practice, Dr. Lai has become a permanent fixture within the Great Falls community through leading and organizing Tai Chi and badminton clubs.
About the MAC:
With two locations in Montana, the MAC's sole focus is on providing a quality patient experience and outcome. The MAC takes great pride in its ability to accept new patients quickly, provide unparalleled access to a robust team of doctors and utilize the latest advancements in rheumatic treatments to ease the burden of diagnosis. In addition to Dr. Lai's new role, the MAC's Rheumatology team consists of Dr. Craig Carson, M.D. and Wendy Donaugh, FNP.
The MAC accepts most major insurances, including:
▪ Blue Cross Blue Shield of MT
▪ Allegiance / Cigna
▪ Pacific Source
▪ First Choice Health, Big Sky Region
▪ IHS
▪ Medicare
▪ Medicaid
▪ Tricare
▪ First Choice of Midwest
▪ Three Rivers Provider Network
▪ UnitedHealthCare
▪ VA
▪ Humana
▪ HIS
▪ Fortified Provider Network
MAC Locations:
Great Falls (temporary location)
2509 7th Avenue, Suite D3
Great Falls, MT 59405
T: (406) 350-4600 F: (406) 794-0555
E: greatfalls@montanaarthritis.com
Billings
100 Brookshire Boulevard, Building 2 Unit 1A
Billings, MT 59102
T: (406) 272-0100 F: (406) 206-0105
E: billings@montanaarthritis.com