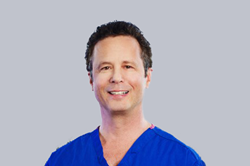 MCKINNEY, Texas (PRWEB) March 10, 2021
Physician Partners of America (PPOA) is pleased to announce that interventional pain management specialist Robert Sutherland, M.D., has joined the company's McKinney, Texas, pain management practice. He began seeing patients on February 22 at the office, located at 2730 Virginia Parkway, Suite 300B McKinney, TX 75071.
Dr. Sutherland creates customized pain management plans for patients that may include therapy, medication management, or minimally invasive procedures. "My goal is to help patients in pain, decrease it as much as possible and increase their quality of life and function," he says.
He specializes in chronic axial pain, treating the areas of the mid back, lower back, neck and arms using spinal cord stimulation. He is also highly experienced in using radiofrequency ablation (RFA), a minimally invasive procedure that enables patients to usually return home the same day.
When creating a customized pain management plan, Dr. Sutherland evaluates the patient and their medical history, in addition to performing tests to arrive at a precise diagnosis.
Dr. Sutherland graduated Cum Laude with an undergraduate degree in Biology from the University of Michigan and received his medical degree from the University of Illinois College of Medicine. He completed his residency in the Department of Anesthesiology at the University Hospitals of Cleveland. His fellowships include serving in the Department of Anesthesiology at the University Hospitals of Cleveland, and as the director of pain management at Allegheny Hospital in Pittsburgh.
He comes to PPOA from Interventional Spine Associates in Tyler, TX where he served as medical director and was a Partner/Owner at Baylor Scott and White Texas Spine and Joint Hospital. A lecturer and presenter at conferences, Dr. Sutherland has also contributed to numerous medical publications. He is a member of numerous professional associations including the American Medical Association, the Texas Medical Association, the Smith County Medical Society, the American Pain Society, the International Spinal Injection Society and the American Society of Anesthesiologists.
He and his wife have three adult children and three grandchildren.
Make an appointment with Dr. Sutherland by calling (469) 331-4977 or click here
About PPOA:
Physician Partners of America (PPOA) is a national healthcare organization focused on strengthening the doctor-patient relationship and improving patient outcomes. PPOA and its affiliates share a common vision to ensure the well-being of patients and provide its physician partners the opportunity to focus on the practice of medicine. This model allows physicians to be physicians, caring about patients and their needs versus the ever-complex administrative requirements. For more information about Physician Partners of America, visit ppoamedical.com.