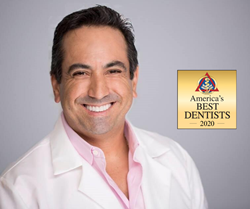 HOUSTON (PRWEB) March 12, 2020
Roberto Velasco, DDS is excited to announce that he has been named America's Top Dentist for 2020 by the National Consumer Advisory Board (NCAB). This annual award honors leaders in the field of dentistry who go above and beyond to provide exceptional patient care and top-notch results. The title of America's Best Dentist reflects Dr. Velasco's long-term commitment to innovative prosthodontic services, consistently helping patients enjoy restored function of their teeth and creating a healthy smile.
The NCAB program uses a meticulous process to determine the most outstanding oral professionals in each state. Throughout the year, respected dentists can be nominated by a healthcare colleague or peer. Each candidate's qualifications will then be reviewed and verified. Finally, the NCAB staff take an in-depth look at the dentist's education, experience, academic achievements, board certification, professional associations, awards and online patient testimonials. All of the dentists selected for America's Best Dentist list will:
Have over four years of experience
Care for patients full-time
Average three times the required hours for continuing education
Show great concern for patients
Use magnification for exceptional attention to detail
Not have any suspensions or malpractice issues
Rank nationally among America's Best Dentists candidates
Be nominated by a peer
Be highly reviewed online
Inclusion as one of America's Best Dentists is an honor that few dental specialists can boast. For Dr. Velasco, this achievement can be credited to years of hard work and the joy he feels when giving his patients a new smile. "The practice that I run is focused on rehabilitating people that are broken down…we see all the ranges of patients,". The goal at Uptown Cosmetic and Implant Dentistry is not only to create functional teeth but to also improve an individual's quality of life. "We put (the teeth) back together so their mouth works properly, their mouth looks good, they feel comfortable, and they are healthy, which is super important. They gain back everything that they have lost because they have lost function, aesthetics, and self-esteem. (We are) putting back together a human that is broken down,".
About Dr. Robert Velasco
Dr. Velasco received his dental degree from Xavier University, graduating at the top of his class. His love for dental implants and esthetics prompted him to pursue a post-graduate degree in Implant and Esthetic Dentistry with the specialty of prosthodontics. Dr. Velasco completed a competitive residency in Florida before moving to Texas in 2003 to begin his private practice. He is a member of the American College of Prosthodontists, American Dental Association (ADA), Texas Dental Association (TDA), Greater Houston Dental Society (GHDS), Academy of Osseointegration Implant Society (AO) and the American Academy of Facial Esthetics (AAFE).
Uptown Cosmetic and Implant Dentistry offers a variety of dental services, from routine exams to full mouth reconstruction. Dr. Velasco is one of only a handful of dental professionals to specialize in the innovative All-On-4™ treatment, helping patients with missing and damaged teeth in just one day. Uptown Cosmetic and Implant Dentistry uses in-house 3D CAT Scans and an on-site lab to provide exceptional services all in a single location. Go to America's Best Dentists for additional information on this year's award winners. For more information on the procedures offered or to arrange a consultation with Dr. Velasco, call the Houston-area office at 713.903.2644.